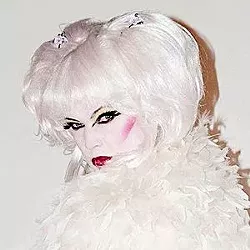 VarieTease Carnivale at the Orlando Fringe
In 2007,
Carnivale
raised the bar for spectacles to aspire to at the Orlando Fringe, and established VarieTease as a fan-favorite fixture of the Festival. I was afraid nothing could live up to my rose-colored memories of that original production, but this year's revival exceeded even my elevated expectations.
VarieTease: Carnivale
BlueLaLa Entertainment LLC - Orlando, FL
7 DATES THROUGH MAY 29, 2016
Venue: Orange
Length: 60 Min
Price: $11 (Disc: FA | FV | MIL | STU | SR)
Rating: 18 & Up – Mature Theme
Buy Tickets
Creator/choregrapher Blue Star and veteran performer Tymisha Harris return to the roles they originated, as the magical matriarch of a sensual sideshow and a little-girl-lost who runs away to join her sinister circus. The ensemble has lost some iconic members, like Willie Marchante and John "Tweeka Weed" Barber (rest in peace), but it gained some exceptional additions – including Megan Boetto, Micheline Wingerter, Jack Kreeger and Lola Selsky – along the way. Likewise, the seamless songlist is largely the same, with choice selections from Outkast and Christina Aguilera to the Gorillaz and Grace Slick, but it's been upgraded with aural treats like "Circus Fish" by Vermillion Lies and Melanie Martinez's "Mad Hatter."
What's so impressive about this reimagined
Carnivale
is how Blue has matured as a choreographer and director; the storytelling is far sharper, and there are always multiple layers of movement to feast the eye on, not unlike Cirque du Soleil's best work. Speaking of eye candy,
Carnivale
's colorful lighting is the best in the Festival; the big-top set-pieces are grander than ever; and stilt-walking costumer Kyla Swanberg fleshed out the original designs with some fresh new fantasy fashions. I'll even temporarily temper my standard anti-lip-syncing stance for this show, since Blue and Harris execute it so believably.
At a certain point (OK, multiple points) I had to stop taking notes and ugly-cry because I was so proud to see how far Blue, VarieTease, and the whole Orlando Fringe has come in less than a decade. As co-author of
The Unofficial Guide to Las Vegas
, I see every big show that opens in Sin City, and
Carnivale
is better than 80 percent of what I saw on the Strip this year. If you remember
Carnivale from
the first time, you must take this acid trip down Memory Lane; if it's your first exposure to the experience, I envy you. Consider my mind effing blown all over again.