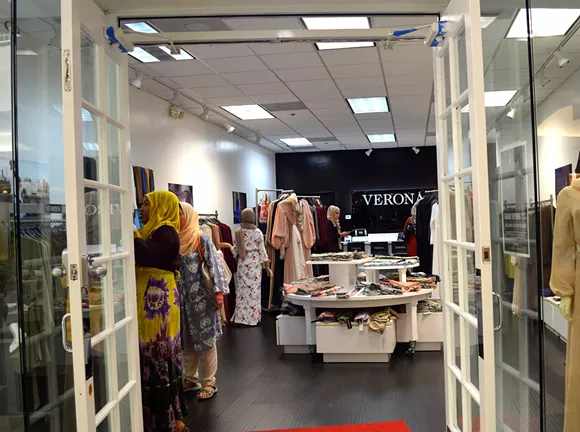 Photo by Monivette Cordeiro
For the first time in her life, Naeemah Kahbir can walk into a store, try on a dress and buy it right off the rack.
While it might seem like a small privilege, it's something the Muslim American woman had never experienced in her hometown of Philadelphia. Most of the time, she shops for modest skirts and long sleeve tops online or pays someone to make it from scratch. It's rare to find a dress at Forever 21 that's fashionable and isn't sheer or has a slit, she says. But that changed Saturday after Kahbir walked into Verona Collection at the Orlando Fashion Square Mall.
Verona Collection
, an online company that designs and sells hijabs, modest clothing and sportswear, recently opened a brick-and-mortar store in Orlando and is
reportedly
one of the
first
Muslim women's clothing stores to open in a mainstream American mall.
Lisa Vogl, one of Verona's founders, says after she converted to Islam in 2011, she wanted to pursue a career in fashion photography that aligned with her moral values. She fell in love with the world of modest fashion and paired up with Nadine Abu-Jubara to create a company for Muslim women who want to be fashionable but still adhere by their religious beliefs. Last year,
Fortune
called Muslim women the "next big untapped fashion market.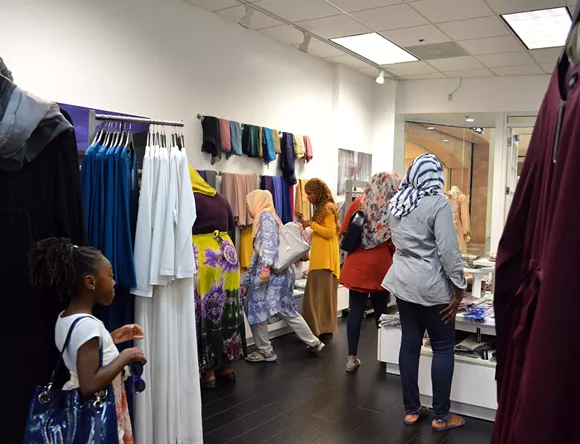 Photo by Monivette Cordeiro
"It's so hard," Vogl says. "Some of the customers can attest to this. We can't find tops that go down to our knees, so we end up being buying a sleeveless dress, but you have to wear a long sleeve shirt underneath and then you need to find pants. Your outfit never really goes because you're trying to match too many pieces."
Kahbir and her companions were already visiting Orlando on a separate matter when they decided to visit Verona, but Vogl says one customer told her she drove two hours to get one hijab.
"It's very rare as a Muslim woman that you get to walk into a physical store and feel the material," Kahbir says. "When you see someone who looks like you and is a fashionable Muslim who also covers, it's like the ultimate inspiration."
Photo by Monivette Cordeiro
Vogl says that although she's heard a few negative secondhand comments, she never hesitated at the thought of opening a store for Muslim women in a time of
increasing
anti-Muslim rhetoric and violence.
"I'm very big on staying true to who I am," she says. "I know that we're good people. If we just cower and hide, if we're constantly scared about putting ourselves out there, then they're never going to learn that we're really good people and what they see in the media is just not true. To me, it's a way of combating Islamophobia."