THIS LITTLE UNDERGROUND

Jen Cray
False Punk at Uncle Lou's
False Punk
alone are always worth the price of admission. In terms of who the city's
most electrifying punk band
is right now, they're still kings of the mountain with no credible threat on the horizon. It's not because there aren't enough legit contenders – there are – it's just that they're that good.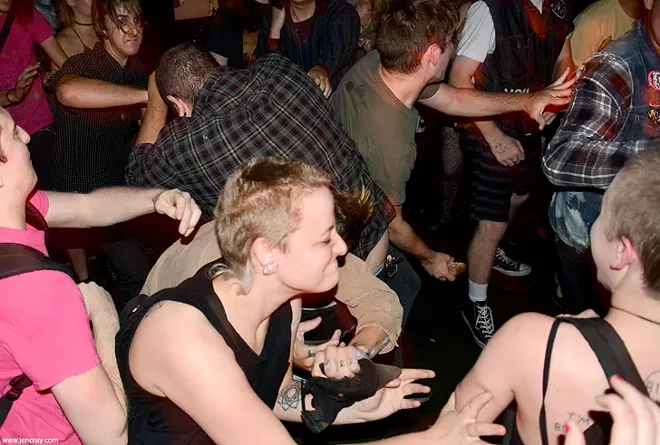 Jen Cray
Socialite at Uncle Lou's
The
homecoming show
(May 22, Uncle Lou's) for their East Coast tour was one of those events whose turnout and energy reassure me that all will be OK with the world. Then again, it never hurts when you pad the bill with so much
quality and variety.
Locally, they tapped rising young melody punks
Crit
and instrumental surf traditionalists
Thee Wilt Chamberlain.

Jen Cray
Crit at Uncle Lou's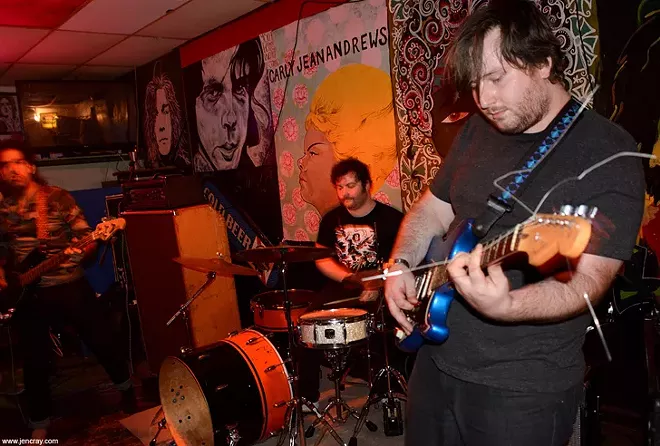 Jen Cray
Thee Wilt Chamberlain at Uncle Lou's
It's been a while since I've checked in on
Thee Wilt Chamberlain
and, in that time, they've
perfected their craft.
By now, they've really got their thing down, with patina and atmosphere so complete and enveloping that they make stepping into Uncle Lou's feel like a scene in a
Tarantino film.
Thee Wilt Chamberlain may be the only pure surf-rock band in Orlando but it would take a seriously exceptional practitioner to topple their reign as
the best.
Jen Cray
Socialite at Uncle Lou's
But in kindred spirit with the headliner, it was the imported bands that brought the heft and the fury. It took
Jade Tree
band and False Punk tourmates
Socialite
all of about 15 seconds to
peel the lid off
the joint. The beautifully blared and elemental hardcore of this Philadelphia crew isn't trying to expand the form outward, it's distilling it
back to its essence.
In tapping that pure marrow, they're one of those bands that actually reaffirms the fundamental eternity of punk rock rather than just perpetuates its fashion. So, naturally, shit got a little crazy. Bodies flew, ceiling tiles got knocked out, it was live.
Jen Cray
Socialite at Uncle Lou's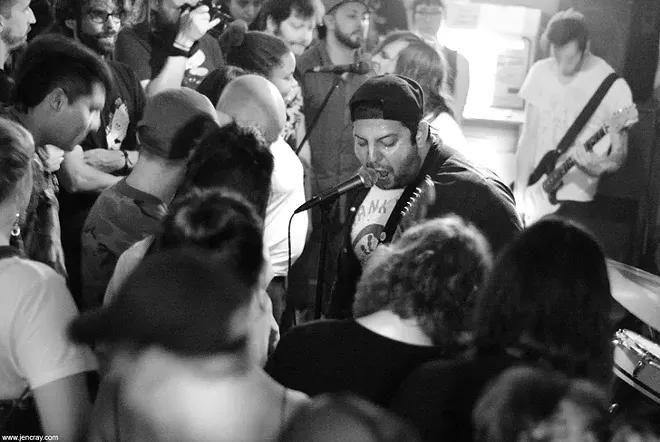 Jen Cray
Socialite at Uncle Lou's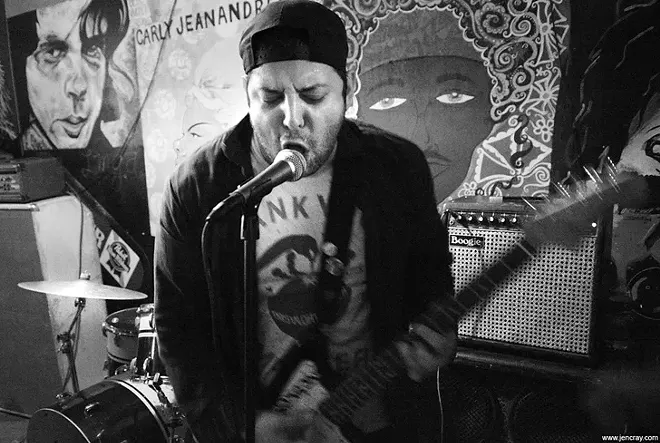 Jen Cray
Socialite at Uncle Lou's
Still, you can't undersell invention, especially when you're face-to-face with an act like
Ian Iachimoe
– not the mysterious Paul McCartney pseudonym but the intensely captivating Ft. Lauderdale two-piece band. As a headlong duo that kicks with the twin barrels of noise and punk, the
Lightning Bolt
comparison is facile but appropriate. While Lighting Bolt rides the frenzy, however, the bass-and-drums assault of Ian Iachimoe gets
heavy and hairy
like a sludgy, fuzz-thick, bottom-heavy cousin that's every shred as thrilling as it looks on paper. With the cumulative impact of dynamics, power and that pulse-jacking torque so signature of duos, they show the real mileage of a two-piece when you put some
brains and guts
into it. Download their latest music for free
here
.
Jen Cray
Ian Iachimoe at Uncle Lou's
Jen Cray
Ian Iachimoe at Uncle Lou's
///////////////////////////////////////////////////////////////////////////////////////
This Little Underground
is Orlando Weekly's music column providing perspective, live reviews and news on the city's music scene.



Follow Bao on Twitter (@baolehuu)
Email Bao: baolehuu@orlandoweekly.com