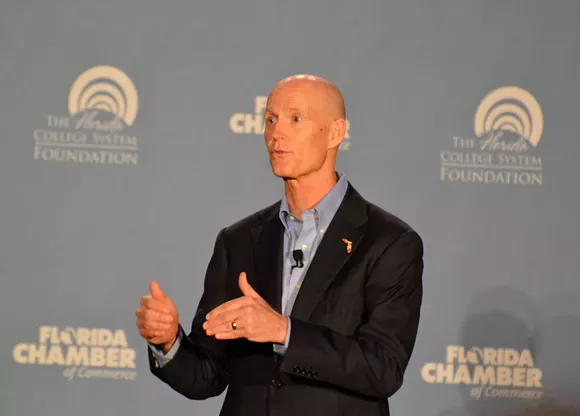 Photo by Monivette Cordeiro
Gov. Rick Scott encouraged Florida's universities and colleges to convince their students to stop taking their time and graduate in four years at his "Degrees to Jobs Summit" in Orlando.
"Finish in four, save more," Scott told education leaders on Wednesday. "You could save $100,000 by getting out in four years rather than six years."
Scott says when he went to college, he was able to work and ended up with no debt, something that would be difficult to achieve today. Scott cited a statistic from the Florida Board of Governors showing 44 percent of the undergraduates at state universities graduate within four years, while 71 percent take six years to earn a degree. Scott says students who take two years longer to graduate lose $100,000 not just in paying for classes, but in salaries they could have made.
Scott proposed working with the Florida Legislature to allow the Bright Futures scholarship to cover summer semesters and get rid of the extra fees that come with online courses.
The summit was met with criticism from United Faculty of Florida, the union that represents more than 22,000 college and university faculty members in the state. UFF was not invited to the summit.
"The very premise of Rick Scott's summit is problematic in that the mission of higher education is much more than just jobs," UFF says in a
statement
. "While obtaining a job after graduation is important, higher education is about developing educated, well-rounded citizens and future leaders who are able to communicate and write effectively, think critically, and solve problems – skills that are also important criteria for those who do the hiring. If Governor Scott is serious about improving higher education, then he needs to make sure that our university and college systems are funded properly, not relying on gimmicks such as one-size-fits-all performance funding."