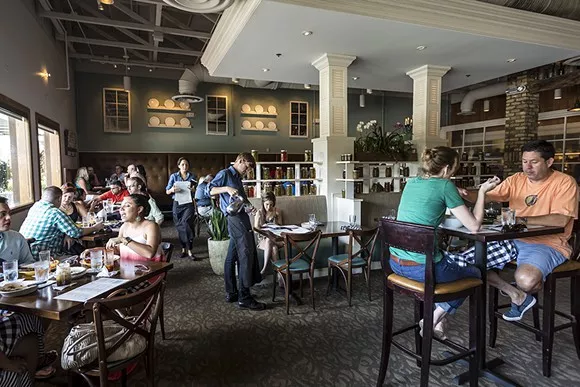 Rob Bartlett
Cask & Larder main dining room
Earlier we reported that the Ravenous Pig, one of the most highly lauded restaurants in Central Florida, if not the entire state, was set to move into the Cask & Larder space on Fairbanks Avenue.
We said the move/merge was precipitated by an expiring lease on the Ravenous Pig's current location at 1234 N. Orange Ave. in Winter Park, and that the Pig would occupy the main dining room of the current Cask & Larder space, while C&L will move into the bar area, and that we'd update when we heard back from the restaurants' chef-owners.
Well, we've heard from owners James & Julie Petrakis and here's what they had to say:
"Contrary to recent media reports, The Ravenous Pig has no plans to move in the foreseeable future. But we do have several big announcements to make about upcoming plans that will continue our efforts to enhance Central Florida's culinary community. Look for details on Wednesday, June 1."
Last April, chef James Petrakis
told the Orlando Business Journal
that the restaurant was looking to make a move "in two or three years."
Needless to say, we wait with bated breath on next week's announcement.<!——EndFragment——>