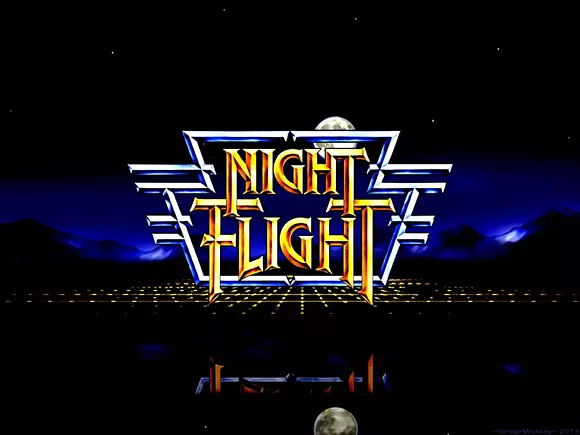 Cable television in the early 1980s was terrible. Sure, it's easy to say the same thing about cable television now, but 35 years ago, cable TV was just making its way into the mainstream. In the early '80s, if you didn't have cable, you had your choice of three broadcast networks and PBS; if you did have cable, you had your choice of three broadcast networks, PBS, a couple of government-mandated public access channels, HBO, and maybe a dozen "basic cable" channels that were little more than well-funded versions of those public access channels. ESPN broadcast things like Bulgarian junior women's water polo championships, TBS had wrestling and
Andy Griffith
, WGN had
The Jeffersons
and
The Partridge Family
, MTV had a lot of Rod Stewart videos, and the USA Network had the sports that ESPN passed on, old Hanna-Barbera cartoons, and, on weekend overnights starting
June 5, 1981
,
Night Flight
.
Even though MTV was the most obvious and best-known destination for music videos on cable TV – it was called
Music Television
, after all – it was a channel programmed by former radio people. And radio in the early '80s was just as bad as it is now, defined by ever-tightening playlists and an accelerating loss of local control; MTV's early (relative) diversity and greatness was a bug, not a feature. There just weren't that many mainstream acts making music videos in the early '80s, but if there were, you can rest assured that it's what would have been played on the network. But MTV did what they could with what they had, and what they had was a lot of aging rockers with big budgets and the
beautiful neon flourishes
of budding New Wave pop stars.
But there was lots more happening in music, and you could hear it on the far-left reaches of your radio dial if you lived in a somewhat larger city, or, if you had basic cable and the ability to stay up all night (or a VCR in the den), you could watch it on
Night Flight
. Debuting two months before MTV,
Night Flight
sought to combine the vibe of a midnight movie marathon with the thrill of hanging out with a cool friend who had deep knowledge of every musical/cinematic/artistic subculture you'd only heard about.
It was a completely insane programming block that could contain everything from a
Jodorowsky
film and rare footage of
the Germs
to
Sub-Genius
video clips, documentaries about cutting-edge films and graphic artists, and
all the weird music videos that MTV was too scared to play
. It was, to say the least, completely eye-opening for a generation of suburban kids who knew they were weird, and who – finally – had access to the wider world of weirdos.
It's important to understand just how crushing and omnipresent the monoculture was at the time; even for the raddest, most punk/avant/weird motherfuckers in your town, information and media moved incredibly slowly, via occasional visits to the big city record/video store and, of course, fanzines and the mail-order bonanzas that would happen when you actually found them. For all but the most devoted freaks, salvation came in small, discrete doses, and most of those doses came on weekend nights thanks to
Night Flight
.

Urgh! A Music War, Breaking Glass
, the entire L.A. punk scene documented by
New Wave Theatre
,
Fantastic Planet
,
Another State of Mind
, the
Brothers Quay
,
Grace Jones
,
Ladies and Gentlemen: The Fabulous Stains
,
Sonic Youth
,
Eraserhead
, the
Residents
,
Fritz the Cat
... all of these blew my young suburban mind thanks to
Night Flight
. Not only for actually being exposed to the art itself, but to the
idea
that art like this had a place in the world. For a kid living in an anonymous middle class neighborhood,
Night Flight
opened up an entire universe of thought.
Sure, a lot of the stuff they played was forgettable (they did have to fill huge blocks of time!), but a lot of it left a permanent mark, not just on me and kids like me, but on a whole generation of disconnected culture fiends who needed more than what they were given by mainstream outlets. I don't think it is hyperbolic to say that
Night Flight
was probably the most important thing that happened to underground culture in the 1980s, as it was the first thing to connect what was happening on the fringes of cultural metropolises with the rest of the country on a grand scale.
Thankfully, its legacy lives on, not just in the Gen X weirdos who were inspired philosophically and creatively by what they saw on those overnight shows, but also in a technologically relevant form. The
Night Flight blog
has been going strong since early 2015, and earlier this year,
Night Flight+
was launched, offering a new streaming service that basically provides
Night Flight
footage old and new, 24 hours a day, 7 days a week. Never in your life did you find a better way to spend $2.99 a month. Hell, it's cheaper than cable!