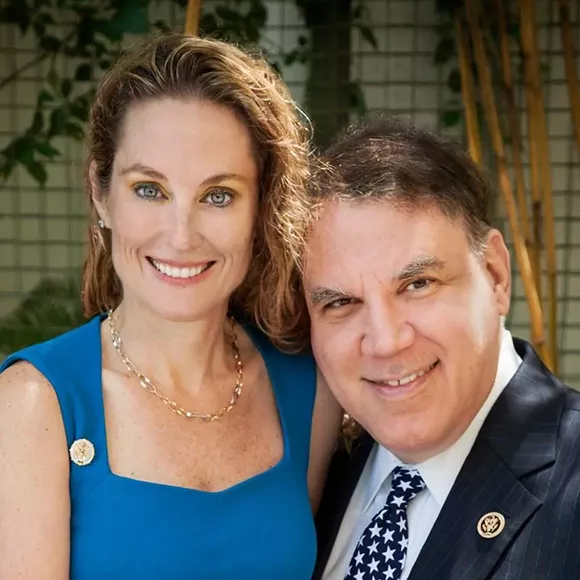 Dena Minning, a relatively obscure Democratic candidate for Florida's 9th Congressional District, became Dena Grayson this weekend after marrying U.S. Rep. Alan Grayson, the incumbent currently in the seat she's seeking to hold.
There's nothing a little name recognition can't do for a candidate, and reporters were
tipped off
to the wedding after she changed her last name from "Minning" to "Grayson" on all her social media accounts. On her Facebook page, she posted a
picture
of herself and her new husband, saying, "My handsome, brilliant, and amazing husband, Alan Grayson!!"
Photo via U.S. Rep. Alan Grayson's campaign for U.S. Senate
Dena Grayson, who describes herself as a doctor and medical researcher on
Twitter
, had been dating Alan Grayson since 2014, before his first marriage to Lolita Grayson was annulled last summer. The
Miami Herald
reports Grayson's U.S. Senate campaign confirmed the marriage, which was held Memorial Day weekend in Melbourne Beach.
"Rep. Alan Grayson and his wife, Dr. Dena Grayson, had a small, private wedding ceremony Sunday evening, with friends and family in attendance to celebrate their union, in the Florida beach town where Dena grew up," a spokeswoman told the
Herald
.
The new Mrs. Grayson had done relatively little campaigning across Central Florida, but has raised money for her campaign. She's facing tough opposition from frontrunners Susannah Randolph and state Sen. Darren Soto in the Democratic primary Aug. 30.
POLITICO Florida
reports Randolph, who is Alan Grayson's former district director, was called by the congressman earlier this year, and he accused her of supporting U.S. Rep. Patrick Murphy, his rival in the U.S. Senate Democratic primary.
"She'll have my money, and she'll have my name," Alan Grayson told Randolph about his girlfriend, according to POLITICO sources.