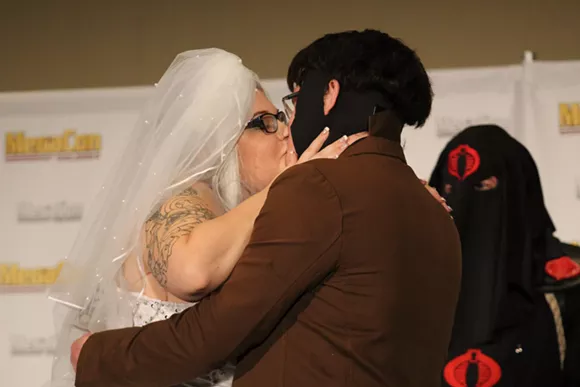 It's not often you have a wedding that marries two members of the X-Men with the help of a super-villain officiator and a marching squadron of Stormtroopers. But that's exactly what happened Saturday, May 28, inside the Orange County Convention Center during MegaCon 2016.

Florida residents Brandon & Mandy decided to have their wedding at one of the largest multimedia conventions in Florida due to their personal connection to conventions.
"They met at a convention years ago," said Chelsea Lay, a longtime friend of Mandy's. "That was Mandy's big dream, to get married at a convention because it's so close to her."
The wedding was open to the public, so along with expected friends and family present came large groups of con-attenders wishing to observe.
"I guess people were excited there was going to be a con wedding, because a lot more people came to watch than I expected," Lay said.
The wedding began with a marching squad of Imperial Stormtroopers from the Star Wars films. Not to be outshone at their own wedding, the bride, groom, and the men and maids of honor all wore their own costumes as well.
The bride and groom were dressed as Rogue and Gambit respectively, two superheroes from the Marvel team the X-Men.
To complete the scenario, the wedding officiator was none other than Cobra Commander himself, the leader of the villainous group Cobra that battles the G.I. Joes.
"This is my fourth wedding as Cobra Commander," said Marco Salvino, the good-natured man underneath the Cobra Commander mask. "And it's at MegaCon no less, which is pretty cool."
Salvino is a professional wrestler who goes by Shawn Prime, and does cosplay wrestling as the G.I. Joe villain at conventions. A few years ago, a fellow cosplay-wrestler asked him to officiate his wedding as the sinister villain.
"I'm thinking like 'It's your guys' wedding, if you want to remember a super-terrorist officiating your marriage for the rest of your lives, I'm not judging'," Salvino said. "But I took the course to be official and it was a hit and it's just caught like wildfire since, all my friends ask me to officiate their weddings."
Salvino enjoyed this wedding in particular.
"This was at a convention, it was really loose." Salvino said. "Do the vows, kill some time, I got to go up and just be Cobra Commander. And the bride and groom came up to me later and said they absolutely loved it.
Near the end of the wedding, Salvino spoke to the crowd from passage about being loved for who you are, not who you're pretending to be, all the while cracking jokes that kept the audience in good spirits. Mandy and Brandon said their vows, exchanged their rings, and became husband and wife.
Cobra Commander ended the wedding saying "Then by the power invested in me, not only as the leader of Cobra, but also by being legally binding in Florida, I now pronounce you man and wife."