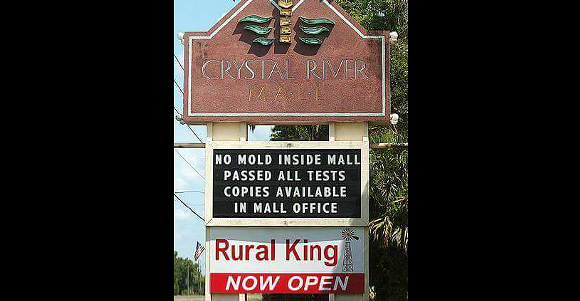 Photo via mowithak/Reddit
The Crystal River Mall wants everyone to know they no longer have a mold problem, and they have the papers to prove it.
A recent photo posted to
Reddit
shows the mall's marquee reading, "No mold inside mall/passed all tests/copies available in mall office."
Here's a little background...
Earlier this year, Citrus County Sheriff's Fire Rescue and Crystal River code enforcement discovered mold in the mall's JC Penny, reports the
Citrus County Chronicle.
Apparently the mold was extremely bad, so much so that the JC Penny, which is now closed, had to be sealed off from the the rest of the mall.
According to the Chronicle, the inspector's report stated that the JC Penny had "very severe mold inside with black ceiling and walls and green mold coming from floor with so-called green plants 6-inches tall growing."
Besides the mold at JC Penny, inspectors also found numerous other violations, including exposed wiring, mold in the Belk stock room and a leaking roof.
But hey, now the marquee says they don't have mold, time to shop!
To remind you of a much happier, mold-free era of the Crystal River Mall, watch this hilarious good public access commercial from 2013...