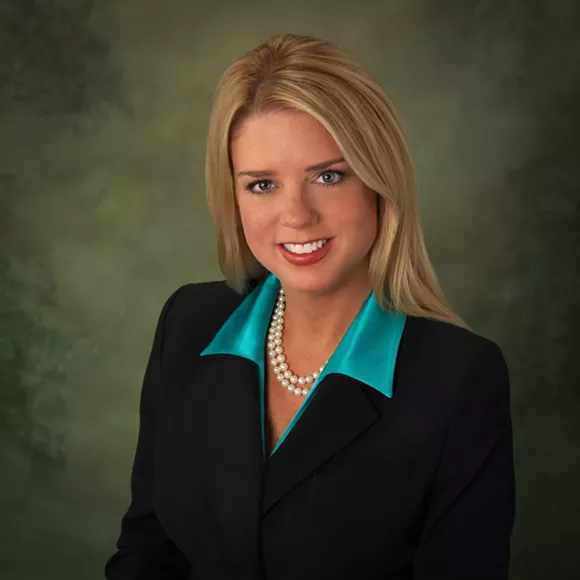 Like the wet-dog smell at your favorite Golden Corral, Attorney General Pam Bondi's connections to this
Trump University fraud case
just won't go away.
The
Associated Press
reports Bondi "personally solicited" a political contribution from presumptive Republican nominee Donald Trump while her office decided whether to join the investigation into Trump University. After Bondi's political committee received a $25,000 donation from Trump, Bondi decided not to go after Trump. According to the
AP
:
The money came from a Trump family foundation in apparent violation of rules surrounding political activities by charities. A political group backing Bondi's re-election, called And Justice for All, reported receiving the check Sept. 17, 2013 — four days after Bondi's office publicly announced she was considering joining a New York state probe of Trump University's activities.

After the check came in, Bondi's office nixed suing Trump, citing insufficient grounds to proceed.

Bondi declined repeated requests for an interview on Monday, referring all questions to Marc Reichelderfer, a political consultant who worked for her most re-election effort.

Reichelderfer told AP that Bondi spoke with Trump "several weeks" before her office publicly announced it was deliberating whether to join a lawsuit proposed by New York's Democratic attorney general. Reichelfelder said that Bondi was unaware of dozens of consumer complaints received by her office about Trump's real-estate seminars at the time she requested the donation.

"The process took at least several weeks, from the time they spoke to the time they received the contribution," Reichelderfer told AP.
Earlier, the
Orlando Sentinel
reported it had obtained about 8,491 documents from Bondi's office that showed her staff and her predecessor's staff told people who complained about Trump University and its affiliates to "hire their own attorney or complain to another government agency."
"In one case, a man said Trump University cost him $26,000 and drove him into bankruptcy," the
Sentinel
reports. "He asked if Bondi would follow the New York attorney general's lead in investigating the matter. Bondi's office instead suggested he 'visit an Internet search engine such as http://www.yahoo.com or http://www.google.com to search for information on any class action lawsuits you may benefit from.'"
On another Trump-related note,
Bloomberg
reports Bondi and other Trump surrogates were reportedly on a conference call where the billionaire asked them to "defend his attacks on a federal judge's Mexican ancestry" and "ordered them to question the judge's credibility and impugn reporters as racists."