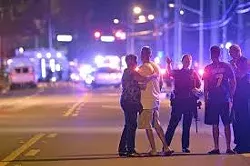 Today Trevor Velinor, a spokesman for the Bureau of Alcohol, Tobacco and Firearms, said that Omar Mateen legally bought the two guns believed to be used in the attack within "the last few days."
"He is not a prohibited person. They can legally walk into a gun dealership and acquire and purchase firearms. He did so. And he did so within the last week or so," Velinor said at a press conference.
President Obama addressed the nation earlier today, and had this to say about firearms: "Today marks the most deadly shooting in American history. The shooter was apparently armed with a handgun and a powerful assault rifle. This massacre is therefore a further reminder of how easy it is for someone to get their hands on a weapon that lets them shoot people in a school, or in a house of worship, or a movie theater, or in a nightclub. And we have to decide if that's the kind of country we want to be. And to actively do nothing is a decision as well."