Photo by Monivette Cordeiro
A man holds a candle at vigil in Lake Eola after the mass shooting at Orlando's Pulse nightclub.
Orlando saw the worst mass shooting in U.S. history early Sunday morning with 50 people dead and 53 wounded after 29-year-old Omar Mateen opened fire on more than 300 people attending Latin night at the gay nightclub Pulse. There's still a lot of unanswered questions, but here's what we know so far.

City officials have so far released the names of 36 victims who lost their lives:
- Edward Sotomayor Jr., 34 years old
- Stanley Almodovar III, 23 years old
- Luis Omar Ocasio-Capo, 20 years old
- Juan Ramon Guerrero, 22 years old
- Eric Ivan Ortiz-Rivera, 36 years old
- Peter O. Gonzalez-Cruz, 22 years old
- Luis S. Vielma, 22 years old
- Kimberly Morris, 37 years old
- Eddie Jamoldroy Justice, 30 years old
- Darryl Roman Burt II, 29 years old
- Deonka Deidra Drayton, 32 years old
- Alejandro Barrios Martinez, 21 years old
- Anthony Luis Laureanodisla, 25 years old
- Jean Carlos Mendez Perez, 35 years old
- Franky Jimmy Dejesus Velazquez, 50 years old
- Amanda Alvear, 25 years old
- Martin Benitez Torres, 33 years old
- Luis Daniel Wilson-Leon, 37 years old
- Mercedez Marisol Flores, 26 years old
- Xavier Emmanuel Serrano Rosado, 35 years old
- Gilberto Ramon Silva Menendez, 25 years old

- Simon Adrian Carrillo Fernandez, 31 years old
- Oscar A Aracena-Montero, 26 years old
- Enrique L. Rios, Jr., 25 years old
- Miguel Angel Honorato, 30 years old
- Javier Jorge-Reyes, 40 years old
- Joel Rayon Paniagua, 32 years old
- Jason Benjamin Josaphat, 19 years old
- Cory James Connell, 21 years old
- Juan P. Rivera Velazquez, 37 years old
- Luis Daniel Conde, 39 years old
- Shane Evan Tomlinson, 33 years old
- Juan Chevez-Martinez, 25 years old
- Jerald Arthur Wright, 31 years old
- Leroy Valentin Fernandez, 25 years old
- Tevin Eugene Crosby, 25 years old
If you're still looking for a loved one, check back
here
for updates. In a tragic scene late Sunday, people gathered at the Hampton Inn & Suites near Orlando Regional Medical Center cried out in anguish and wept at hearing the fate of their family members. Most of the victims and their families are Latino. Many were disappointed after officials only gave the names of the wounded and did not confirm all the dead. Family members still looking for their loved ones are being asked to report to the Beardall Senior Center at 800 S. Delaney Ave. at 10 a.m. Monday.
Photo by Monivette Cordeiro
Family members of the victims of mass shooting at Orlando's Pulse nightclub hear news about their loved ones.
Sara López says she still doesn't know the fate of her friend Jimmy DeJesus Velázquez, 51. Velázquez was a professional Jíbaro dancer from Puerto Rico who traveled the world. López says Velázquez was with at least two friends at Pulse on Sunday morning. His friends told her they heard shooting, but thought it was music until they started seeing people fall down. They tried to grab Velázquez, but he and others were pushed up against the wall by Mateen, who started shooting at the group. His friends ran out to the parking lot, and López says that's the last time Velázquez was seen.
Photo by Monivette Cordeiro
Family members of the victims of mass shooting at Orlando's Pulse nightclub hear news about their loved ones.
Jaime León was furious and anxious after hearing no news regarding his cousin Luis Daniel Wilson, 39, and his cousin's partner Jean Méndez. The victims' bodies, which were still at the club at the time, have identification that officials could easily look at, León says.
"I just want them to give us closure," he says. "If he's dead, I want to know."

The FBI is taking the lead on the shooting investigation.
So far, the timeline from
Orlando Police
says an OPD officer working extra duty at Pulse responded to shots fired around 2 a.m. Sunday. The officer got into a shootout with Omar Mir Seddique Mateen,
of
Port St. Lucie
, who was armed with a 223-caliber AR-15 type rifle, a 9mm handgun and an explosive device.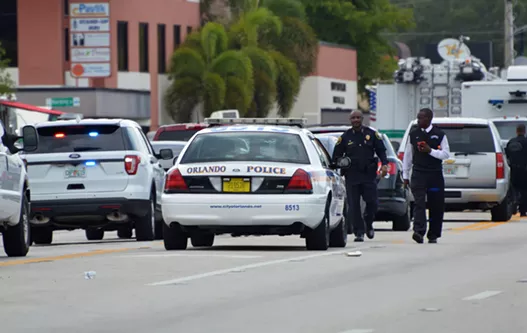 Photo by Monivette Cordeiro
Law enforcement close street leading to Pulse nightclub as they investigate mass shooting.
The
Orlando Sentinel
reports two more officers joined in the shootout, and Mateen walked deeper into the club and continued shooting, trapping people inside. On their Facebook page,
Pulse Orlando
posted, "Everyone get out of pulse and keep running," as hundreds of law enforcement officials began surrounding the club. The
Associated Press
reports Eddie Justice texted his mother, saying "Mommy I love you," and "In club they shooting." He told her he was trapped in the bathroom and to call 911 because "He's coming.
I'm gonna die." One of Justice's last texts to his mother says, "He's a terror."




"Investigators called to the scene told CNN that, hours later, the bodies remained where they had fallen, their cell phones ringing and vibrating, filling the club with the eerie sound of parents trying to reach children who would never pick up," the
Tampa Bay Times
reports.
Around 5 a.m., officials decided to rescue the hostages by driving an armored vehicle through a wall and distracting Mateen with devices that made noise. They were able to rescue 30 hostages while SWAT officers had another shootout with Mateen. Mateen, who reportedly purchased the guns within the last week, was killed by officers' bullets.

Photo by Monivette Cordeiro
Gov. Rick Scott talks to the press regarding mass shooting at Orlando's Pulse nightclub.
OPD reported at least 20 dead early Sunday morning, but soon it became clear there were 50 dead and more than 50 injured.
Local and state officials soon began congregating on Orange Avenue, including U.S. Sens. Bill Nelson and Marco Rubio, Florida Gov. Rick Scott, Orange County Mayor Teresa Jacobs and Orlando Mayor Buddy Dyer.


"This is probably the most difficult day in the city of Orlando," Dyer told the press.
Local blood banks reported long lines of people willing to donate, and the Council of American-Islamic Relations Florida asked Muslims to donate blood as well.


"We condemn this monstrous attack and offer our heartfelt condolences to the families and loved ones of all those killed or injured," said Rasha Mubarak, the Orlando regional coordinator for CAIR-Florida, in a
statement
. "The Muslim community joins our fellow Americans in repudiating anyone or any group that would claim to justify or excuse such an appalling act of violence."
Photo by Monivette Cordeiro
Locals cry at news about mass shooting at Pulse that killed 50 and injured 53.
Orlando City Commissioner Patty Sheehan, the first openly gay official in Orlando, said, "If you think that you're going to stab at the heart of us by doing this horrible, violent act, you're not, because we love."
Terry DeCarlo, executive director of The GLBT Center of Central Florida, said he just wanted to "wake up" from the nightmare he was living.
"My knees buckled and I almost went down when I heard it went from 20 [victims] to 50," DeCarlo says. "My heart left my body."

We know some about Omar Mateen, but there are still uncertainties.
The FBI told the press Mateen made 911 calls during the attack where he pledged allegiance to ISIS.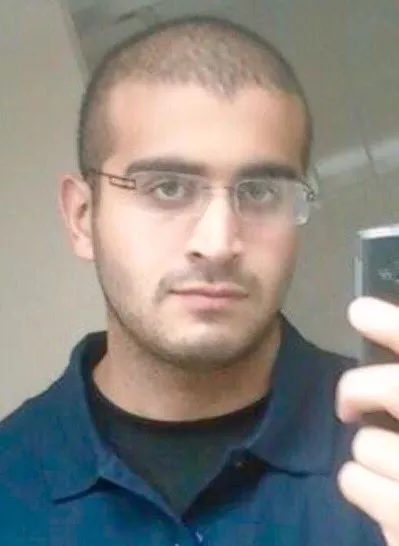 Photo via Orlando Police
Omar Mateen
Mateen was born in New York, and FBI officials say they first became aware of him in 2013, when he "made inflammatory comments to co-workers alleging possible terrorist ties,"
CNN
reports. The inconclusive investigation was closed, and in 2014, the FBI contacted Mateen again regarding "possible connections with an American suicide bomber" named Moner Mohammad Abusalha. They let Mateen go again, and he was not under investigation or surveillance currently.
Mateen worked as a security officer with G4S. Mateen's ex-wife, Sitora Yusifiy, said he was an abusive person who beat her, according to the
Washington Post.
His father, Seddique Mir Mateen, told
NBC News
he was in "shock" and didn't think the killings had to do with Islam, but with his son's hostility toward gay people. Mateen was angered over a recent incident where he saw two men kissing in Miami.
"They were kissing each other and touching each other and he said, 'Look at that. In front of my son they are doing that,'" the father told NBC News. "And then we were in the men's bathroom and men were kissing each other."
Gov. Rick Scott called the incident "clearly an act of terror." U.S. Sen. Bill Nelson said ISIS media claimed responsibility for the shooting, but some reports are pointing to Mateen being a
lone-wolf attacker.
U.S. Sen. Marco Rubio said ISIS was seeking to terrorize us.
"I hope they see today they won't terrorize America," U.S. Sen. Marco Rubio told press in Orlando. "They won't terrorize Floridians. That we stand with and for all Americans, irrespective of their sexual orientation."
President Obama also addressed the shooting, saying he offered Mayor Dyer any resources Orlando needed and calling the mass shooting a "reminder of how easy it is for someone to get their hands on a weapon that lets them shoot people in a school, or in a house of worship, or a movie theater, or in a nightclub."
"We have to decide if that's the kind of country we want to be," Obama said. "And to actively do nothing is a decision as well."

While many vigils in Orlando were postponed, others around the world mourned for us.
Photo by Monivette Cordeiro
People lay candles at a small vigil for victims of the mass shooting at Pulse nightclub in Orlando.
Some Orlandoans did gather at Lake Eola to light some candles while bars, clubs, churches and organizations around the city held small gatherings.
We're broken and grieving right now, but through it all, the good in Orlandoans has shined through at blood banks and in supporting the LGBTQ, Latino and Muslim communities.
The City Beautiful will heal, #OrlandoStrong
Photo by Monivette Cordeiro
A woman lights a candle at a small vigil for victims of the mass shooting at Pulse nightclub in Orlando.