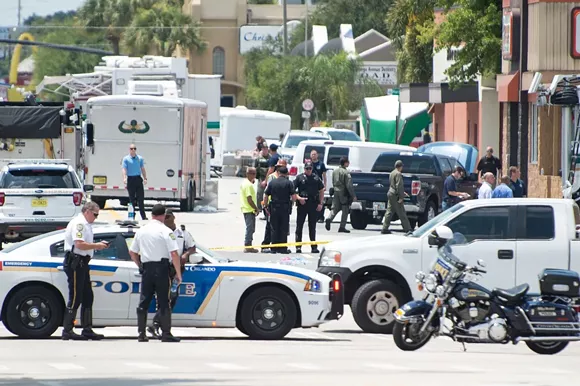 According to the
Associated Press
, Islamic State radio has referred to the Orlando mass shooter
Omar Mateen
as "one of the soldiers of the caliphate in America."
New York Times
reporter Rukmini Callimachi, who focuses on ISIS and al-Qaeda, posted to
Twitter
a translated transcript from the radio broadcast early Monday morning:
The brother Omar Mateen, one of the soldiers of the Caliphate in America, carried out a security raid in which he was able to enter into a gathering of Crusaders in a nightclub for followers of the people of Lot [homosexuals] in Orlando, Florida.

Allah enabled him to subdue the impure Crusaders, killing & wounding more than 100 of them before he was killed - may Allah accept him.

It should be pointed out that this invasion is the largest in America in terms of number killed.
According to reports from the FBI, Mateen called 911 before entering the gay Orlando nightclub Pulse and pledged his allegiance to Abu Bakr al-Baghdadi, the leader of ISIS.
Earlier today, President Obama said there is no evidence the Orlando shooter was part of larger plot or directed by ISIS.
However, this isn't the first time ISIS has posthumously accepted responsibly for an act of terror, specifically with someone who they've had minimal or zero contact with. Last year,
San Bernardino shooters Syed Farook and Tashfeen Malik
pledged allegiance to ISIS on social media before killing 14 people at a social services clinic.
On Sunday afternoon the shooter's father, Mir Seddique, said the incident had nothing to do with religion. "We are apologizing for the whole incident. We weren't aware of any action he is taking, we are in shock like the whole country. This had nothing to do with religion," said Seddique to
MSNBC
.
He later claimed that his son got
very angry when he saw two men kissing
in downtown Miami recently.
Mateen was a 29-year-old, U.S.-born citizen with parents from Afghanistan. Officials say Mateen was "on the radar" for some time and investigated
twice before
, but was not the target of any specific investigation. The shooter also held a Florida security officer license and a state firearms license.
As of Monday morning, Orlando officials have confirmed that there were 49 victims killed in Sunday's massacre and that the shooter was the 50th person.
An additional 53 people were injured at the club.