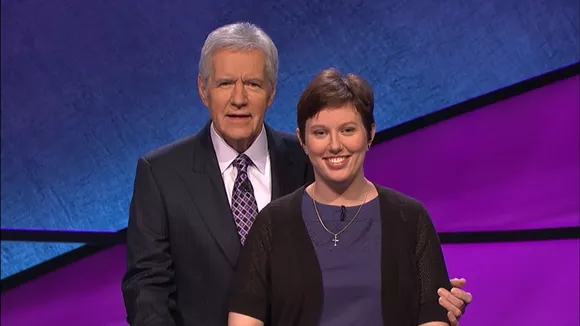 Courtesy of Jeopardy Productions, Inc.
Dana Thurmond Bruno, a humanities professor at Valencia College, may have a
near-perfect 4.9 rating on RateMyProfessor.com
, but she'll have to do more than just impress students if she wants to win on
Jeopardy!
this Tuesday, June 14. Specifically, she'll have to master the notoriously difficult timing of the buzzer in order to respond (in the form of a question!) to Alex Trebek's prompts. Regardless of the outcome, Bruno is bound to feel some relief after Tuesday's show as she's known the results for months, but has been sworn to secrecy in order to keep the audience interested. Now she'll just have to deal with people asking her random questions for the rest of her life and unreasonable expectations from bar trivia teams. Ah, the life of a
Jeopardy!
contestant.
Jeopardy!
airs at 7 p.m. weekdays on WFTV Channel 9.