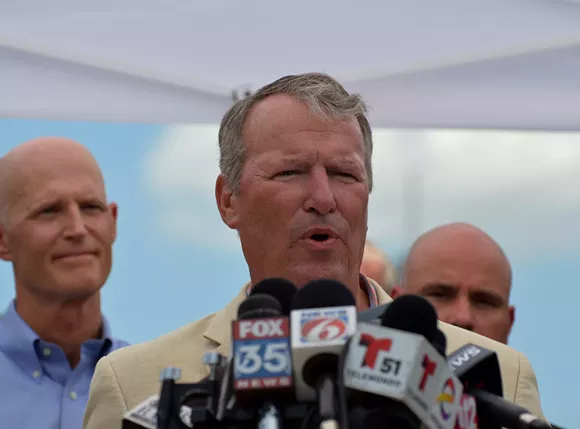 Photo by Monivette Cordeiro
Orlando Mayor Buddy Dyer says the gunman who killed 49 people and injured 53 at the gay nightclub Pulse drove around the city before going to the club.
Dyer says he can't confirm the locations or if Omar Mateen stopped to visit any of them.
"As I understand it, he had driven around our community that night," Dyer says.
At an earlier press conference Dyer attended, FBI Tampa Assistant Special Agent Ron Hooper gave scant details about the investigation into Mateen or anyone else, but says the shooting was a "hate crime" and terrorism." Hooper also encouraged people to give any kind of tips on Mateen at tips.fbi.gov or call 1-800-CALL-FBI.
"We want to hear from any member of the public that has any involvement, connection with the shooter," he says.
Hooper and other law enforcement officials would not comment on whether charges would be filed against Mateen's wife, Noor Salman, who reportedly told the FBI she told her husband not to commit the shooting, but drove Mateen to Pulse in the past. The
Orlando Sentinel
reports authorities have turned to a grand jury to help investigate the mass shooting.