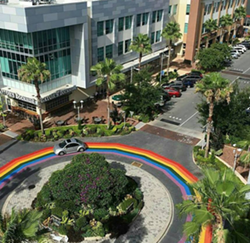 Photo by @downtownsouth via Instagram
As of yesterday, the media circus has finally abated, and Orange Avenue northbound and southbound — between Michigan and Gore — are slowly opening and returning to (relative) normalcy.
That means that the
40 or so businesses of the Downtown South district affected by the road closures
will need your help more than ever in the coming weeks. As of now, all have reopened except for the Dunkin' Donuts and Pro Tint & Detailing.
Here are the restaurants you can visit in the area that would love to fill their tables in the coming weeks:
Arbys, 2600 S. Orange Ave.
Brick and Fire
, 1621 S. Orange Ave.
Chai Thai Cuisine
, 2447 S. Orange Ave.
Chipotle Mexican Grill, 2211 S. Orange Ave.
Einstein Bros. Bagels, 1901 S. Orange Ave.
Numero Uno Restaurant
, 2499 S. Orange Ave.
Pizza Hut, 2435 S. Orange Ave.
Planet Smoothie, 2441 S. Orange Ave.
Subway Sandwiches, 1742 S. Orange Ave.
Taco Bell, 2474 S. Orange Ave.
Even Mayor Buddy Dyer has released a statement asking for Orlandoans to come together, as we have so well over the last week, to support these businesses:
"Now that Orange Avenue has completely reopened, we can again come together to support our local Downtown South businesses who have also been impacted by this tragedy.

"Many of Downtown South's businesses were closed for days. Others have had few customers due to the road closure, making it difficult to pay employees and bills. The businesses that were able to remain open were diligent in providing assistance in any way possible to our first responders and law enforcement agencies.

"I thank our Downtown South businesses for being so supportive following the tragedy. Together, let's unite to support these businesses."