via Pizza Bruno on Instagram
Chef Bruno Zacchini opens his long-anticipated
Pizza Bruno
very, very soon – just as soon as he can get legal. The neighborhood pizzeria and Italian eatery with a wood-burning pizza oven should open "by July" at 3990 Curry Ford Road.
Zacchini is also the executive chef at the highly respected Third Wave in New Smyrna Beach, but true old-schoolers will remember him for the beloved Big Bruno's Bites food cart he ran in 2011/2012, usually found outside Redlight Redlight in its former Bennett Road location. BBB was known for pork rolls, Philly cheesesteaks and a renowned fried Oreo, whereas Third Wave is a decidedly more upscale affair. But Pizza Bruno sounds like the just-right mix of Zacchini's talents: a casual, family-friendly spot with some creative twists on traditional pies. (Plus it's indoors, and not an hour away.)
"The focus will be neo-Neopolitan style pies (traditional wood fired pizzas using long-fermented dough cooked at high temps) while using American ingredients and newer flavor profiles, like more pickled things and unique combinations on pizzas," Zacchini tells us. Along with that, Zacchini promises small plates, charcuterie and salads with the eventual addition of some baked pastas and weekend specials.
"The ultimate aim is to keep it in line with a neighborhood restaurant that you can come grab a great pizza or just a salad and a small plate," Zacchini says. "I look forward to, on the weekends, doing market-inspired plates based on what's coming in seasonally. Also we will be adding a lunch menu and hours probably by week two or three, which will be a small selection of sandwiches" or, in the Pizza Bruno nomenclature, "sangweeches."
We got a look at an early version of the menu and it includes things like the "Crimson Ghost" (chilies, hot sopressata, fresh mozzarella, basil and spicy hot honey) and the "FIVE-OHHHH" (aged mozzarella, pickled jalapeños, prosciutto cotto, roasted pineapple and garlic) alongside more trad margherita and bianca pies.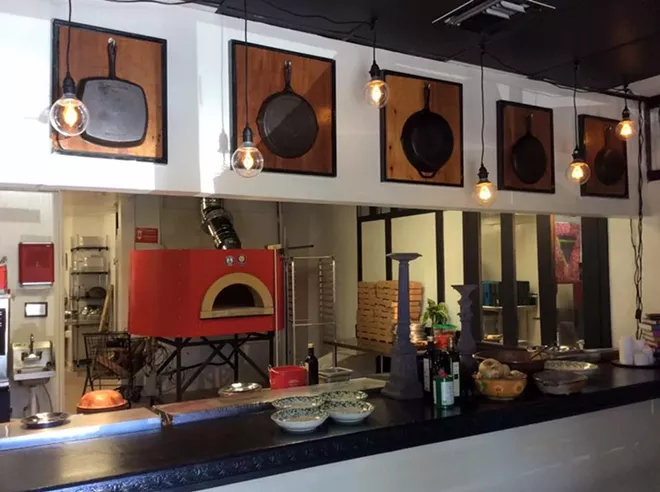 via Pizza Bruno on Facebook