The Florida heat can be vicious during the summer, and there are more ways to cool off than by just going to the beach or the pool. It's time to tube!

While some of these places may be a bit far from Orlando, it just gives you an excuse to plan a road trip. So, pack your floaties and your tubes, and grab a spare one for your cooler—you'll be thankful for it.



Here are 10 freshwater springs and rivers you should be tubing this summer.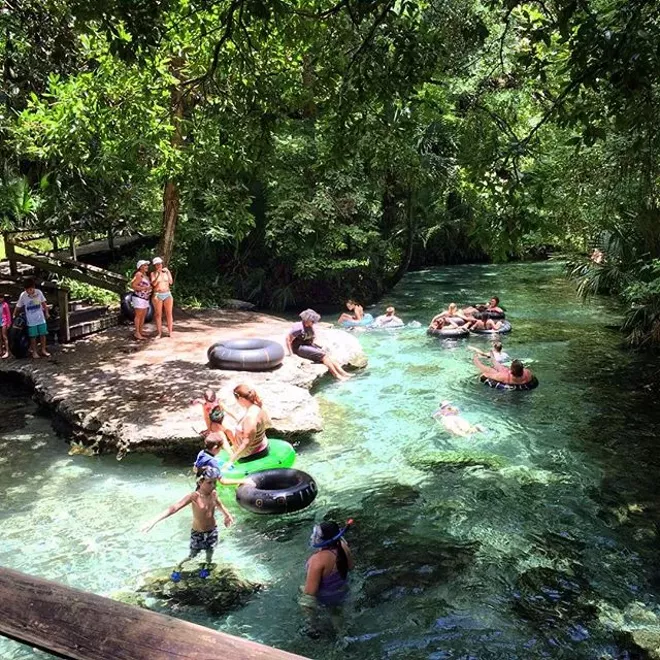 Photo via villasoltera/Instagram
1) Rock Spring's Run at Kelly Spring
400 E Kelly Park RD, Apopka, 407- 254-1902
Distance: About 35 minutes from Orlando


While its tubing run is one of the shortest on this list, coming in at three-quarters of a mile, Rock Spring's Run at Kelly Park is not one to overlook. The 30-minute run might be the best choice for you if you're looking for somewhere to do some swimming and tubing all in the same day. You can rent a tube from Ron's for $3, but you're also allowed to bring your own.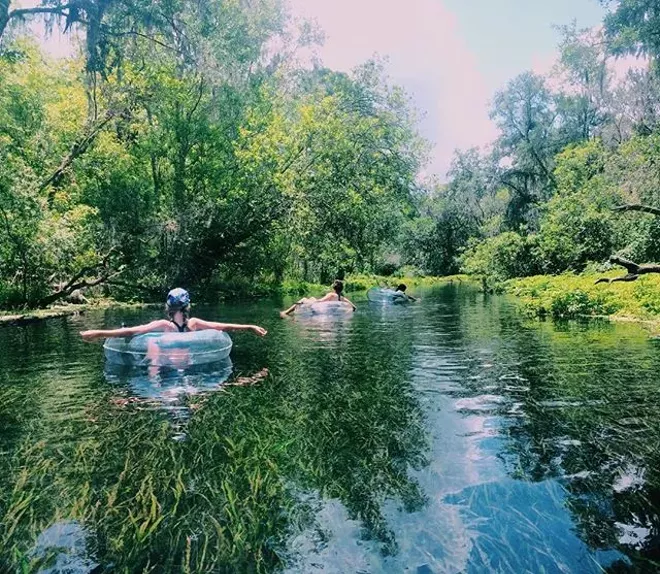 Photo via ashleysherlock/Instagram
2) Ichetucknee Springs State Park
12087 SW U.S. Highway 27, Fort White, 386-497-4690
Distance: About 2 hours and 15 minutes from Orlando


Ichetucknee offers different tubing experiences depending on where you enter. If you start at the north entrance, which is only open during the summer season, you'll be floating for a good 3.5 hours, whereas if you start at Dampier's Landing, you'll be able to go on a 45-minute float. If you're more of a middle ground kind of person, Mid-Point Launch and its 1.5 hour trip downriver might be the way to go. You can rent your tube from Ichetucknee Tube Center, which has tubes starting at $5 for adults, or you can bring your own as long as it's smaller than 5 feet in diameter.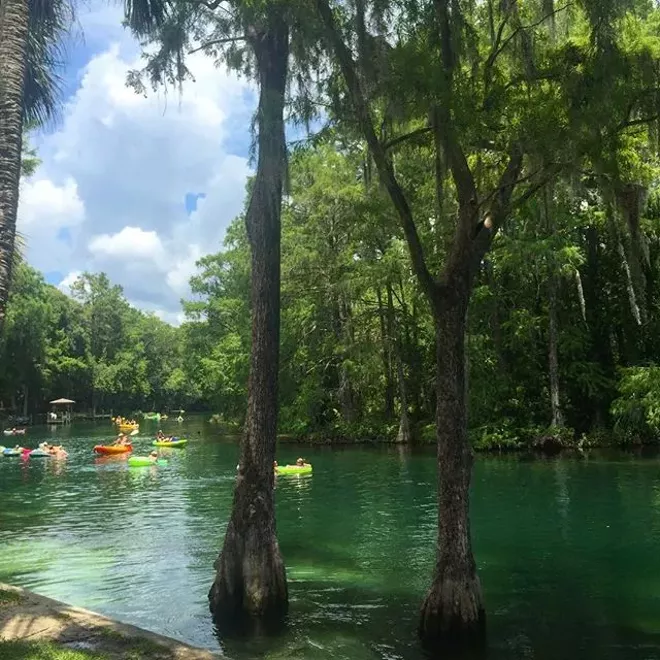 Photo via floridahikes/Instagram
3) K P Hole and the Rainbow River
9435 SW 190th Avenue Rd, Dunnellon, 352-489-3055
Distance: About 1 hour and 30 minutes from Orlando


You may not be allowed to tube at the Rainbow River headsprings, but you are able to do some tubing from K P Hole. It takes you about 4 hours to complete, so make sure your whole day is planned around tubing. Once you're done with the trip, there is a shuttle that will take you back up to your car for $7. You are able to bring your own tubes, but if you don't have any, there is a joint package that includes the tube rental, park entrance plus tax, and the shuttle for $20.


Photo via alexalvarez_1919/Instagram
5000 NE 60th Ave, High Springs, 386-454-7188
Distance: About 2 hours from Orlando


Enter the water at Devil's Springs and enjoy a float down the Santa Fe river for an hour. The path downriver takes you back to Twin Springs, and getting back to your car will only take about 15 minutes walking. You can rent a tube from their store for $5.60 or you can bring your own. If your tubes are looking a little low on air, they also have free air stations.


Photo via crystaldavisdesigner/Instagram
2100 W. French Avenue, Orange City, 386-775-3663
Distance: About 1 hour from Orlando


This is the shortest tube run on this list, clocking in at just about an eighth of a mile, but don't let that deter you from floating down its crystal clear waters. The tube run takes you right back to the main swimming dock too, so you'll be able to enjoy that after tubing. You can bring your own tubes or rent them from the park for $5 an hour, or $15 for the whole day.


Photo via izzyyy_anne/Instagram
6) Spring Creek
2100 Bear Paw Ln, Marianna, 850-482-4948
Distance: About 4 hours and 30 minutes from Orlando


Bear Paw Adventure takes you on a 4-hour tubing experience down Spring Creek, where you can wind down as you slowly drift with the current. Things can get a little hectic, so if peace and relaxation are what you're looking for, try going on a weekday this summer. You can't bring your own tube, but their tube rentals start at $15 and include the shuttle back to the starting point.


Photo via tybliss1/Instagram
7) Blue Springs
7450 NE 60th Street, High Springs, 386-454-1369
Distance: About 2 hours and 15 minutes from Orlando


There might not be a tube run for you to float down in Blue Springs, but who says that's the only way to relax in a tube? You can still float around the main swimming hole, as well as the other small springs in the park. It's still a great way to cool off during the summer. You can bring your own tubes or rent them out for $7.


Photo via floridasplayground/Instagram
8974 Tomahawk Landing Rd, Milton, 850-623-6197
Distance: About 6 hours from Orlando


Adventures Unlimited gives you the opportunity to tube down 4 miles of Coldwater Creek. New waves of people depart on the trip every hour from 9 a.m. to 2 p.m. Tubes start at $20 per person, and you can even get your cooler its own tube for $10. This could prove to be a smart choice, since you're going to want to rehydrate at some point during your 4-hour journey.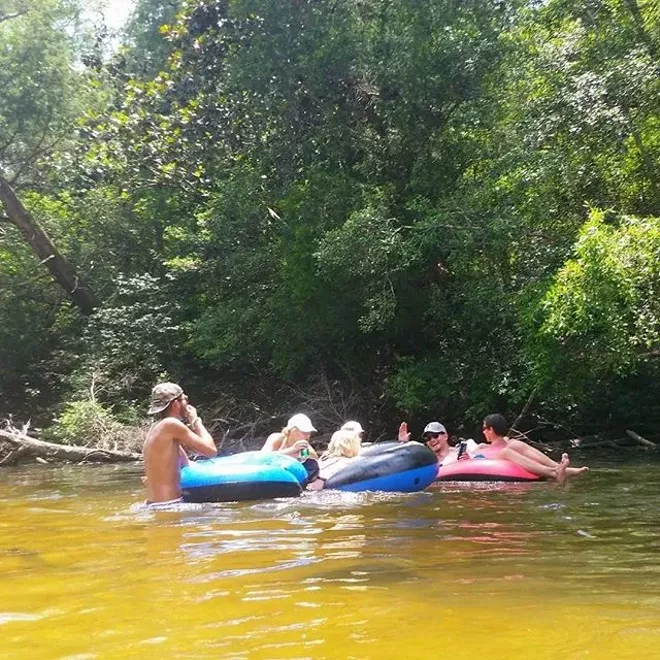 Photo via justfab44/Instagram
6974 Deaton Bridge Rd, Milton, 850-623-0235
Distance: About 6 hours from Orlando


Blackwater Canoe Rental and Outpost provide day-long tube trips along the Blackwater River. You take this trip at your own pace though, stopping along it's white sand bars for a swim or for a quick stretch— it's up to you. The entire tube trip is about 4 miles, and depending on how fast or slow you take it, the trip can last anywhere from 3 to 5 hours. Tube day trip costs $18 per person.


Photo via Chipola River Outfitters/Facebook
10) Chipola River
Johnny Boy Landing, Altha, 850-762-2800
Distance: About 4 hours and 30 minutes from Orlando


Chipola River Outfitters not only offers one tubing trip down the Chipola River, but two. The first trip takes you from Johnny Boy Landing to Lamb Eddy Landing and includes 4 miles of floating and one rapid they call Look and Tremble. You can go down the rapid as many times as you like, and stop along the river for a swim. If you don't have much time, the Willis Brige tube trip is a shortened version of the first, with only about 1.5 hours of float time on a 2-mile stretch. You still pass through the rapid though, so you won't have to sacrifice that. Tube rentals start at $15.