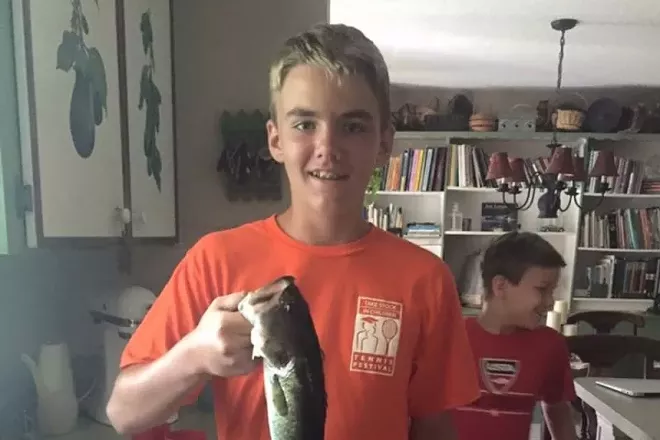 Photo provided by Brumby family via Herald-Tribune
Stephen Brumby, above.
A 14-year-old boy is dead after his father accidentally shot him at a Sarasota gun range, deputies say.
The
Tampa Bay Times
reports 64-year-old Clayton Brumby was at the High Noon Guns gun range with three of his children, including Stephen Brumby, who sat behind him during target practice Sunday. As Clayton Brumby fired his last shot, a hot shell casing bounced out of the pistol, going down the back of his shirt. As he reached to get it out with his finger still on the trigger, the gun fired.
The
Times
says the bullet hit the ceiling, ricocheted downward and fatally hit Stephen. He was later pronounced dead at the hospital. A
GoFundMe account
set up by family members described Stephen as the fourth of seven children.
"In his 14 years of life he was described as 'a meteor that couldn't be contained' by his family or anyone that knew him," the page says. "He loved fishing, tennis music, archery, and knife throwing. He had an insatiable appetite to learn and was constantly sharing his wisdom with those around him. He was passionate about his Lord and Savior Jesus Christ and dedicated his life to sharing his hope with everyone he met. The families' only comfort is knowing that He is communing with the heroes of his faith and rejoicing in paradise."
The Sarasota County Sheriff's Office is still investigating the incident but says currently, there are no pending charges against the father. Clayton Brumby told
CNN
he wanted his kids to be comfortable around guns and understand them.
"The gun didn't kill my boy. I did," he told CNN. "Every round in the gun is your responsibility. When it fires you need to stand to account for it it. That's what I've spent the last two days doing, accounting for my operating error."