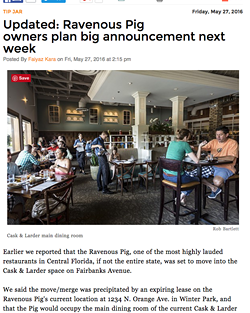 All I'm saying is, somebody owes us an apology. Possibly more than one somebody.
Let's back up: In May, we were told by a person involved in the RavPig/Cask/Swine restaurant groups' management that the
Ravenous Pig would be relocating into the Cask & Larder space
in a space-consolidating move. We'd heard the info from a credible source, so we reported it.
But apparently the entire management group wasn't on the same page about when to announce this move, so they sent us an email that read, in part:
"Contrary to recent media reports, The Ravenous Pig has no plans to move in the forseeable future. But we do have several big announcements to make about upcoming plans that will continue our efforts to enhance Central Florida's culinary community."
The
Orlando Sentinel
even named names in their post about how it totally wasn't true! (But thanks for the link tho)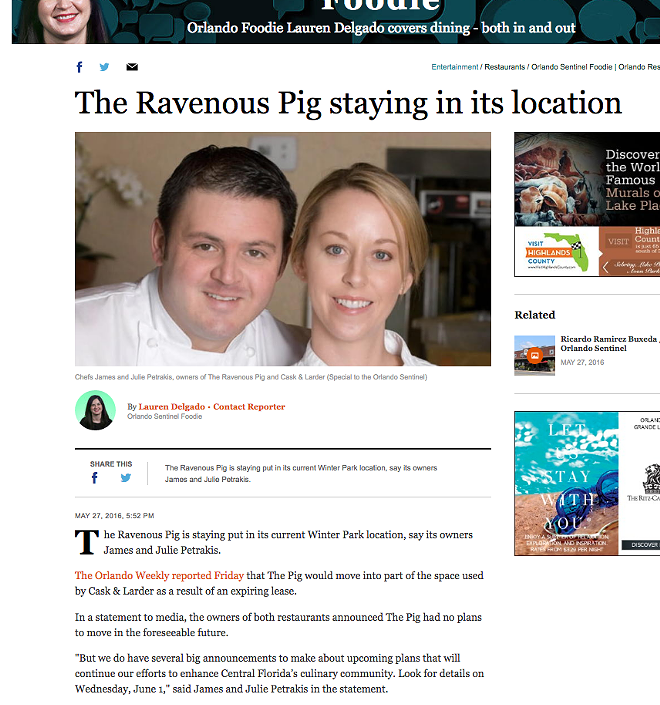 The requisite Nelson Muntz "haw-haw!"s were directed our way on social media. Knowing we were correct, we bore up under the teasing manfully (if by "bearing up manfully" you mean growling about how irked we were to all and sundry). We heard from a friend that he had in fact
seen the blueprints
for the RavPig/C&L consolidation. We growled, and were even more irked, and probably told too many people, "Just you wait! You'll see ..."
And then you'll never guess what happened!
What's that you say? Let's enlarge it for the old folks who forgot their reading glasses:

Oh, and wait, what's this, lower down in the story?
So funny. We thought that's what WE said.
An interesting thing about writing about restaurants as opposed to, say, politicians is that restaurants aren't bound by Sunshine Law, so they can lie right in your face if they want to. We've reached out to the restaurant group's PR firm for comment on this "new development," but haven't heard back yet and, frankly, we have trust issues now.
Look, we can't blame a restaurant for wanting to control their message, though this whole thing stung. (We really like their PR folks and gosh, guys, we thought we were pals ...) But as for the
Sentinel
: In lieu of a retraction, we'll take that apology in the form of a muffin basket or a nice bottle of rosé, thanks.