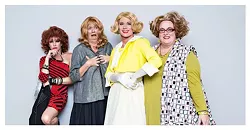 It would be impossible to erase memories of the cross-dressing actors that originated Michael Wanzie's "Ladies of Eola Heights" comedies a decade ago, but with their third outing (and the first installment written specifically for them) the female revival cast of Beth Marshall, Peg O'Keef and Blue Star has indisputably made the madcap Locksdale sisters all their own.
For those keeping track, this episode is set shortly after last year's
Court Ordered Therapy
, and is a prequel to
55 West
. Ruby (Blue) has married the sisters' milquetoast family therapist, Dr. Burroughs (Kevin Kelly), who has taken her on a honeymoon cruise. Meanwhile, Mary Kay-obsessed Opal (O'Keef) wins a vacation for two and drags Pearl (Marshall) along. Naturally, they all end up together on the Disney Magic, providing ample opportunity for spot-on satire of Disney Cruise Line's particular brand of ocean-bound entertainment; I found the inside references riotous, but I've spent nearly a month sailing on that boat.
All of the Eola scripts have blended broad jokes with serious topics like incest, addiction and war. But despite Kenny Howard's brisk yet quietly observant direction, I found the contrast more jarring here than previously, as the tone swung sharply from TVLand sitcom in the first act to Lifetime Movie tearjerker in the second. Each actor gets a great monologue or two to chew on, with Blue in particular giving an intensely emotional performance, but I felt the invocation of child abuse as a plot device wasn't fully developed and bordered on seeming exploitative as a result.
Luckily, whenever things threaten to get too serious, Sam Singhaus (the only carryover from the original cast) is always on hand to lighten the mood with a lip-synched Disney song. And though
Ladies of Eola High Seas
may be sailing in somewhat choppy waters compared to its more polished predecessors, the sight of Beth Marshall in Belle's princess ballgown (one of several show-stopping outfits by costumer Marcy Singhaus) is worth the price of admission all by itself.
Ladies of Eola High Seas
through July 18 at the Abbey, 100 S. Eola Drive
407-704-6261
abbeyorlando.com

$20-$35
click here for tickets