Ten protesters were arrested by police after a sit-in at U.S. Sen. Marco Rubio's downtown Orlando office, where about 70 protesters spent Monday demanding legislation for gun control, LGBTQ protections and safer communities of color.
The coalition of demonstrators were responding to recent tragedies and Rubio's actions following the mass shooting at the gay nightclub Pulse that killed 49 people and left 53 wounded. Using the hashtag #SitInForThe49, protesters originally planned to occupy the Florida Republican senator's office at 201 S. Orange Ave. for the next 49 hours in honor of the victims, who were majority LGBT and Latino. They managed to spend almost 10 hours in the building, where they chanted and sung as they waited for Rubio's response.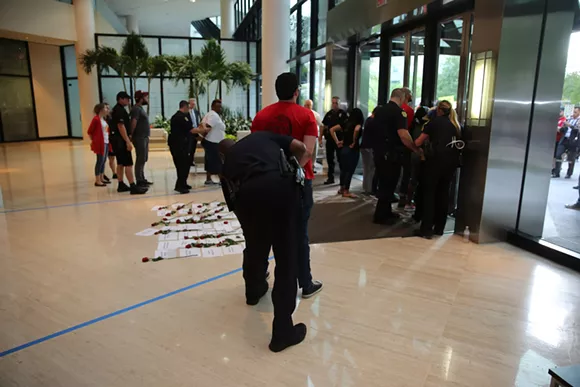 Their goal of 49 hours was cut short after the owner of the private building ordered them out around 7 p.m. Organize Now's Stephanie Porta says Orlando Mayor Buddy Dyer called her during the protest to ask the group not to get arrested and come back the next morning. Porta says Dyer told her Orlando Police officers did not want to arrest anyone.
After 7 p.m., Orlando Police officers came into the building and told the protesters they would have to leave the premise or be arrested. After a group of 10 protesters would not leave, OPD officers arrested them with plastic zip-ties as they sang "This Little Light of Mine." The group, which includes Geoffrey Paquette, Frederick Velez III, Charlotte Davis, Ida Vishkaee Eskamani, Maria Bolton, Jill Giese, Joan Erwin, Angelica Brown, David Thomas Moran and Robin Harris, is facing misdemeanor charges of trespass after warning, according to OPD.
Protesters focused on Rubio because they say he "continues to terrorize Orlando's LGBTQ+ communities of color by adhering to a platform of so-called 'conservative values' which discriminates, dehumanizes, and denies access to the American dream," according to the group's platform. The protesters say the "No Fly, No Buy" legislation politicians, mainly Democrats, have been advocating for "employs racial profiling and fails to address the most urgent needs of marginalized communities." In line with the demands of the Black Lives Matter movement, the protesters' platform asks for:
"Gun Safety: Gun manufacturers and the gun lobby generate profits from tragedies. Lawmakers must reject financial contributions from the NRA, implement universal background checks to close jarring loopholes, enact legislation making it a crime to knowingly import, sell, manufacture, transfer, or possess a semiautomatic assault weapon or large capacity ammunition-feeding device, and allow federal research on gun violence.

Equality: LGBTQ+ people of color are more likely to be the victims of hate crimes than any other minority group. The Pulse Nightclub massacre impacted those who suffer from discrimination, poverty wages, and an unjust immigration system. We demand not only an end to hateful rhetoric and policies that perpetuate racism, sexism, homophobia, transphobia, Islamophobia, and xenophobia; but the passage of a fully-inclusive national LGBTQ+ nondiscrimination law and comprehensive immigration reform.

Community Violence: It is time to end the senseless and systematic murder of unarmed black and brown people at the hands of law enforcement. Lawmakers must end police brutality, develop a transparent database of law enforcement activity, repeal mandatory-minimums for nonviolent drug offenses, and institute after-school programs, living-wage jobs, and accessible higher education to cultivate brighter futures in our communities."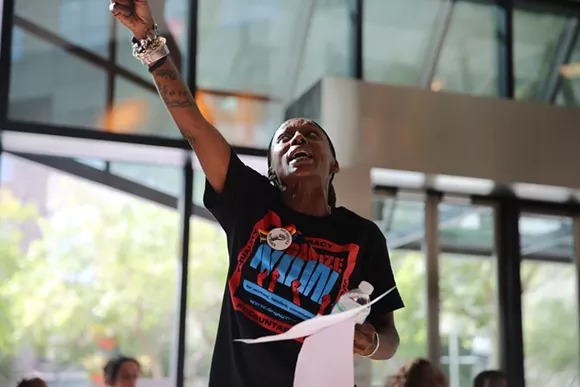 Rubio's office staff talked with the protesters earlier in the day, saying they appreciated them. His office also sent out a statement, saying:
"Senator Rubio respects the views of others on these difficult issues, and he welcomes the continued input he is receiving from people across the political spectrum," the statement says. "Senator Rubio and our office continue working around the clock on federal casework to assist victims' families, survivors and their families, and we stand ready to continue assisting, including lending staff to the victim assistance center as we did for the last few weeks. Over the past month, Senator Rubio has supported common sense compromises to make it easier to track individuals who have been on the terror watch list and later try to buy firearms, all while improving due process protections for law abiding Americans. He will keep working to make sure the Orlando community has the resources they need in the aftermath of this terrorist attack, that our domestic law enforcement agencies have all the tools they need to stop terrorists, and that we have an aggressive counter-terrorism strategy to destroy ISIS and radical Islamic terrorists abroad."
The protesters who were not arrested stood outside as their friends were taken away, some weeping. But before they left, they shouted to the streets in a resounding cry, "We'll be back! We'll be back! We'll be back!"
UPDATE:
Organize Now's Stephanie Porta says all 10 arrested protesters have been released as of Tuesday morning.