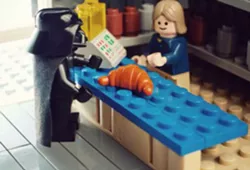 Photo courtesy Flickr Creative Commons
On July 14, the French celebrate Bastille Day, which commemorates the beginning of the French Revolution that began with the storming of the Bastille fortress.
Across the pond, they get the day off and there are tons of fireworks, but there are a few ways Francophiles can celebrate on this side of the Atlantic. Mainly, eat. Here are four ways to get your
liberté, égalité, fraternité
on between now and Sunday.
1. Eat a croissant at Backhaus
It doesn't get much Frenchier than a croissant, and
we named the ones at this German bakery the best in Orlando last year
(part of France speaks German anyway, so it still works). They're perfectly flaky on the outside and impossibly buttery on the inside. Pull one side away from the center and you'll unleash the golden cylinder like a relic in the center of Saint Chapelle.
2. Attend the Bastille Day Festival in Audubon Park
Four days this year,
mon compères
. Four. The
annual Bastille Day festival
that takes place in the Garden District has grown by leaps and bounds. Participate in the Wine & Cheese pairing event, a Bubbles Bash Sip & Stroll, Rouge Rouge pop-up market or catch an appearance by Marie Antoinette herself. More info on the
APGD Facebook page.
3. Have a croque monsieur from Croissant Gourmet for lunch
Or a croque madame (same, just has a fried egg on top). The croque monsieur is a ham and cheese sandwich — slathered with butter,
bien sûr
— toasted and topped with Gruyere-spiked bechamel, then broiled under super-high heat.
C'est chouette.

4. Celebrate Independence Day and Bastille Day together at the Alliance Francaise of Greater Orlando
On Saturday, July 16, the Alliance Francaise of Greater Orlando will host a
joint celebration of Independence Day (the American one) and Bastille Day
with live music by French crooner Tangi Colombel, a raffle, paella and wine, plus plenty of patisserie.