Photo by Monivette Cordeiro
In an emotional ceremony, University of Central Florida students and faculty gathered Wednesday night to honor and remember Philando Castile, Alton Sterling and other African-American people killed by police.
Dressed all in black, about 500 people attended the standing-room-only vigil at UCF's Student Union. The event started off with a rendition by students of "Lift Every Voice and Sing," also known as the "Black American National Anthem."
"Everyone deserves to be treated with dignity," UCF President John Hitt told students. "We want to recognize how each of us is unique. … Tonight, let's all say strongly, firmly and without reservation: Black lives matter."
Photo by Monivette Cordeiro
Kortnie Nelson, a UCF student, read a poem saying she was tired of being a "hashtag hero" on social media.
"We're still seeing our brothers and sisters dead in the streets at the hands of some police officers," she said. "I'm done being a talker and you should also be … Do something. Stop making hashtags. Stop posting on Twitter. Do something so that our sons and daughters will have a better tomorrow."
Black students shared that seeing people who looked like them gunned down for absurd reasons made them feel scared for their own lives. As a list of African-Americans recently killed was read, some students wept and raised their cellphone flashlights.
Barmel Lyons, president of the UCF chapter of National Association of Black Journalists, was one of the organizers of the event. She says the vigil was meant to start a conversation and create change for the community.
"We can't change a system until we change the mindsets of people, and that's what this is about," she says.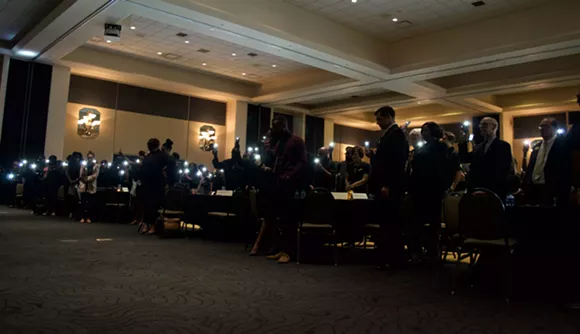 Photo by Monivette Cordeiro