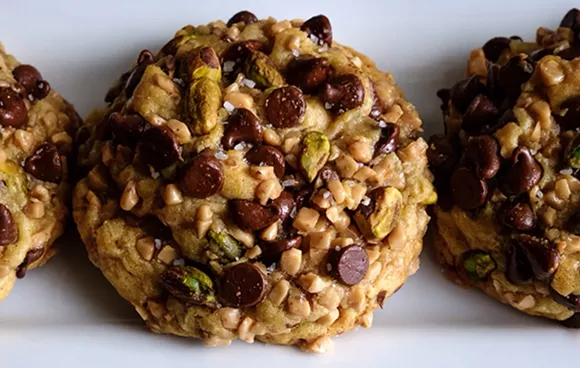 Photo courtesy Gideon's Bakehouse
Attention, cookie monsters: Super-high-demand bakery Gideon's Bakehouse is opening up a limited-time shop at East End Market starting today, July 19.
Gideon's used to only take catering orders and their menu rolled out via monthly newsletter, and the wait list for their small-batch cookies was so long that meeting planners had to call months in advance. No more. Now, their quarter-pound cookies, dessert coffees and cakes by the slice are available on demand.
If you've never read the story about how Gideon's got started, you really should. It's a cool story about the diary of a boy who dreamed of being a baker and pulling his family out of poverty by opening a bakery (Cliff's Notes version.
See full story here
).
Our advice: Start with the chocolate-chip-pistachio (shown, above) and go from there.