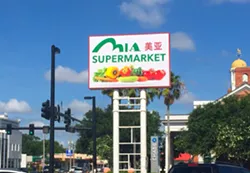 Photo courtesy of our friends at TastyChomps.com
Vegans and vegetarians, stop here. Omnivores, your budgetary dilemma has been solved; read on.
Occasionally, you'll find offal cuts (the innards and rarely used cuts of meat) at Publix, especially depending on your ZIP code — locations in areas with greater diversity are more likely to carry these parts, since certain "ethnic" cuisines use them in traditional dishes.
Mia Supermarket, though, which opened just a few months ago on the northeast corner of East Colonial and Bumby, is a continuously stocked treasure trove of offal. Some of the cuts we found on a recent trip:
Pork: whole hearts, tails, uteri, stomach, intestines, tongue, liver
Beef: liver, heel muscle, honeycomb tripe
Goat: skin
Poultry: chicken feet and duck feet (both with bones and deboned)
Here's the thing about offal and why you should try it, especially if you find yourself strapped for cash: These cuts are cheap. Why? Not because they're not delicious, but because they're in very low demand and are rarely used by the greater population, so you can get a ton of flavorful protein in your diet for very few dollars. Here are a few of our fave offal recipes:
Peruvian anticuchos
(courtesy
Peru Delights
)
Tripe tacos with tomatillo salsa
(courtesy
Epicurious
)
DIY dim sum chicken feet
(courtesy
China Sichuan Food
)
Mia Supermarket
2415 E. Colonial Drive
407-228-9899