THIS LITTLE UNDERGROUND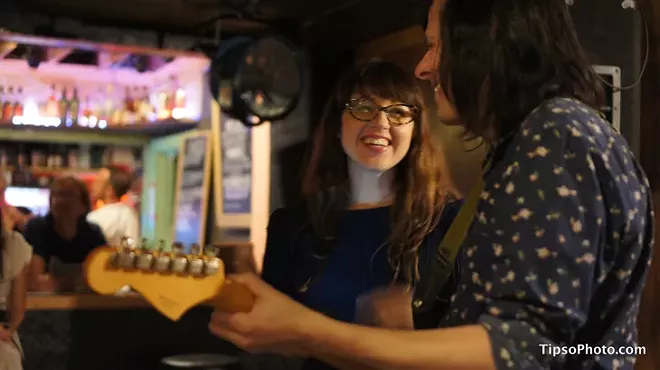 Michael Lothrop
Tierney Tough and Ken Stringfellow at Lil Indies
Local scene queen
Tierney Tough
of the
Pauses
has held many notable special engagements at the Will's Pub complex for years. Though they don't happen frequently, the intimate ones she does at
Lil Indies
have been some of the most truly engaging. Thanks to her considerable connections, she's been able to serve up some
big indie names
in what is essentially
living-room proximity.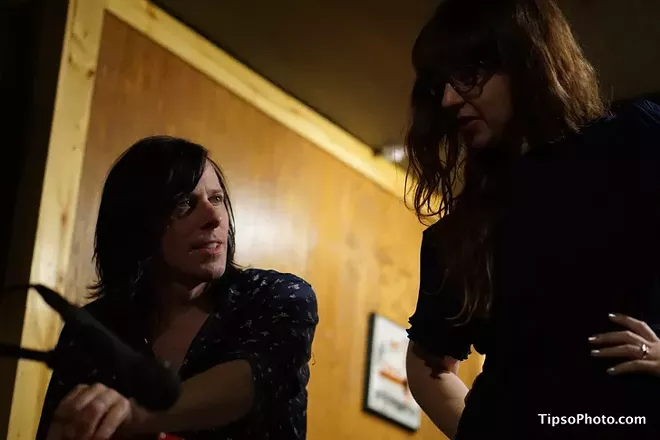 Michael Lothrop
Ken Stringfellow and Tierney Tough at Lil Indies
The latest is the kickoff of the first Florida solo tour ever by
Ken Stringfellow
of the
Posies
(July 21, Lil Indies), which garnered enough interest to necessitate the addition of a
second show
that same night. On his personal work, he's been a bit of a chameleon. And so he was here on both guitar and keyboard with songs that ranged from the open melody of the Posies to rootsy troubadour fare to unsettled balladry.
Michael Lothrop
Ken Stringfellow at Lil Indies
Michael Lothrop
Ken Stringfellow at Lil Indies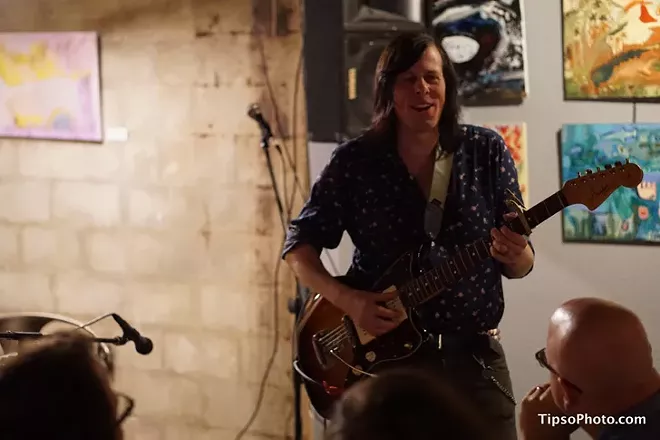 Michael Lothrop
Ken Stringfellow at Lil Indies
About the up-close quality of these shows, you'll seldom be in a situation where
power-pop royalty
like Stringfellow roams the floor and essentially serenades you tableside like he often did here, stepping away from the mic to sing among the seated audience. Consider the potluck aspect of the early show and it was like an
indie supper club.
More than anything, it was that raw and personal quality that defined this rare performance.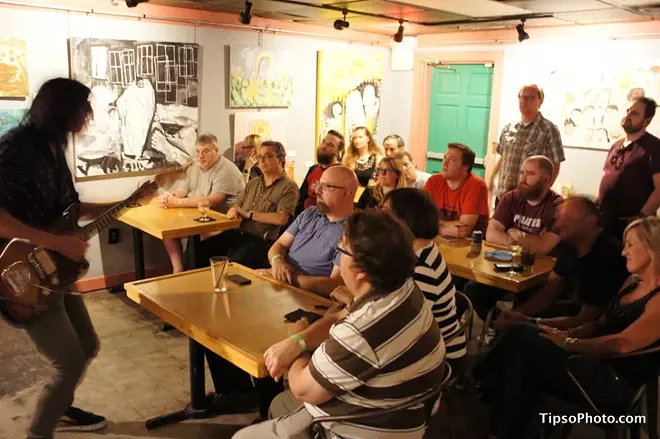 Michael Lothrop
Ken Stringfellow at Lil Indies
Just as noteworthy locally is the fact that it was also one of Tough's own nearly as rare (read: practically non-existent)
solo performances.
That's notable because she's lately – finally – been back focusing on her own material after years of touring all over and playing for other famous people like
Matt Pond
and
War on Women.
And lots of the still-developing songs at this show hadn't yet been heard publicly.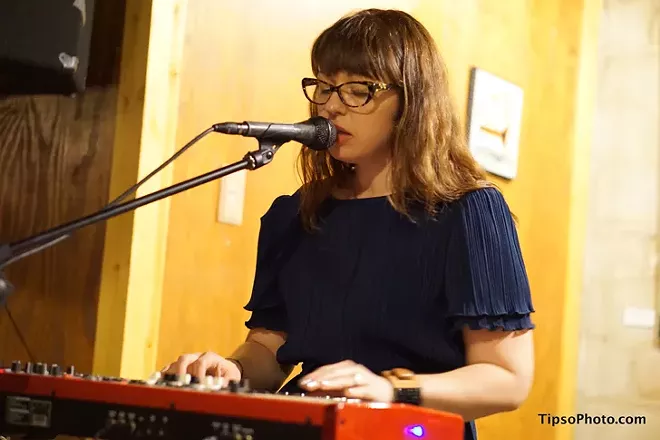 Michael Lothrop
Tierney Tough at Lil Indies
The vulnerability of both the new songs and the simple solo setup lay bare the
emotional range
of Tough's emoting in a way that her band's dynamics tend to keep contained. Allowing more space to float and exhale, it's a format that favors and frees the
supple sweetness
of her voice. The arrangement and drift of the songs will likely change, possibly profoundly, once they get the full Pauses treatment. Hopefully, that evolution will
honor the virtues
revealed at this performance, ones that perhaps her collaborator
Jason Kupfer
(who was in attendance) also felt.
Michael Lothrop
Tierney Tough and Ken Stringfellow at Lil Indies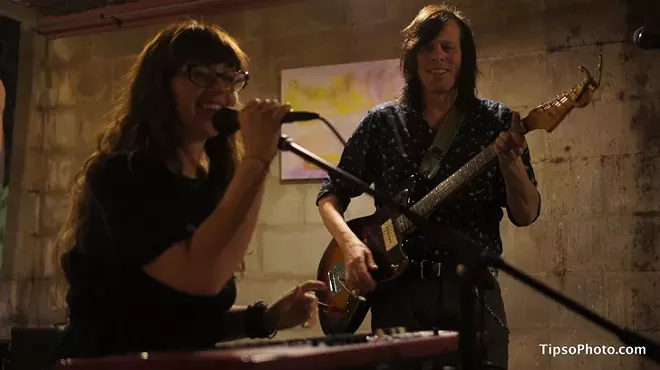 Michael Lothrop
Tierney Tough and Ken Stringfellow at Lil Indies
///////////////////////////////////////////////////////////////////////////////////////
This Little Underground
is Orlando Weekly's music column providing perspective, live reviews and news on the city's music scene.



Follow Bao on Twitter (@baolehuu)
Email Bao: baolehuu@orlandoweekly.com