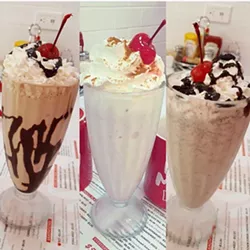 Photo courtesy Red Mug Diner via Facebook
Fewer than six months after opening, Red Mug Diner on Pine Street downtown has already been nominated for
Best Diner in OW's Best of Orlando awards
, and now they've hedged the market on date night too.
The walking-distance proximity to the
Cobb Cinema Cafe at the Plaza
as well as the 24/7 hours made their "date night" promo a no-brainer. Just bring in your ticket stubs from the flick you just saw at the Cobb and you'll get a free shake to share. For a couple of bucks, make it 21+ with a shot of booze like Kahlua, Frangelico, Baileys or Chambord (a chocolate-Chambord milkshake would be on fleek).
There are nine sweet treats to choose from, including all the classics (which you can add malt to for a truly authentic throwback), plus favorite flavors like Thin Mint and Chunky Monkey.
Red Mug Diner
63 E. Pine St.
407-734-5065
redmugdiner.com