THIS LITTLE UNDERGROUND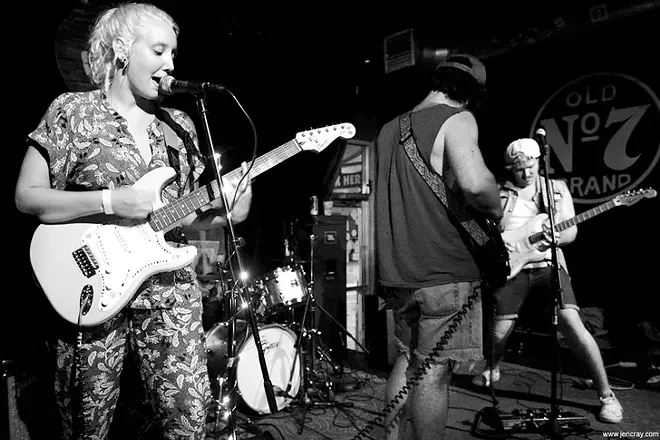 Jen Cray
Kitty Tsunami at Will's Pub
With names like
Kitty Tsunami,
the
Chickenhawks,
Dumberbunnies
and
Buffy
on the bill (Aug. 1, Will's Pub), this recent lineup sounds like the just
cutest animal parade ever.
Instead, the
Ghost Drag Records
event was a rapid-fire rollout of some decent garage-licked talent headlined by overlapping North Carolina associates Kitty Tsunami and the Chickenhawks.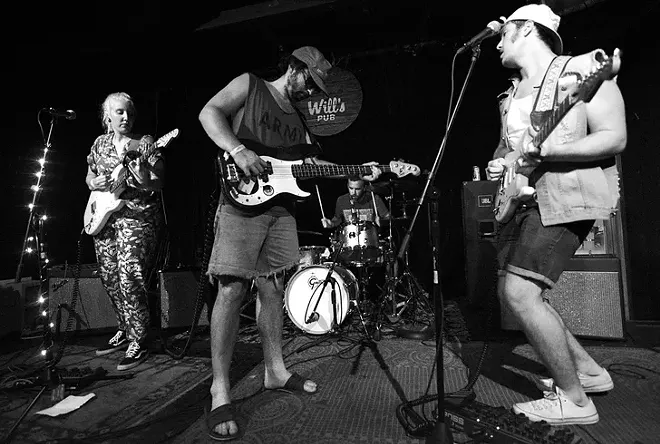 Jen Cray
Kitty Tsunami at Will's Pub
Jen Cray
Kitty Tsunami at Will's Pub
Asheville garage-pop band
Kitty Tsunami
are a charming, low-fidelity junction of sweetness and scrap.
Jen Cray
Buffy at Will's Pub
Miami's
Buffy
are a lively, colorful gang that sounds like a sock hop gone a little bit nuts and a whole lot punk.
Jen Cray
Dumberbunnies at Will's Pub
And in my first time checking back in on them since they first emerged last summer, local Phil Longo project
Dumberbunnies,
though still evolving, remain a loose mix of rock & roll balls and underground rock brain.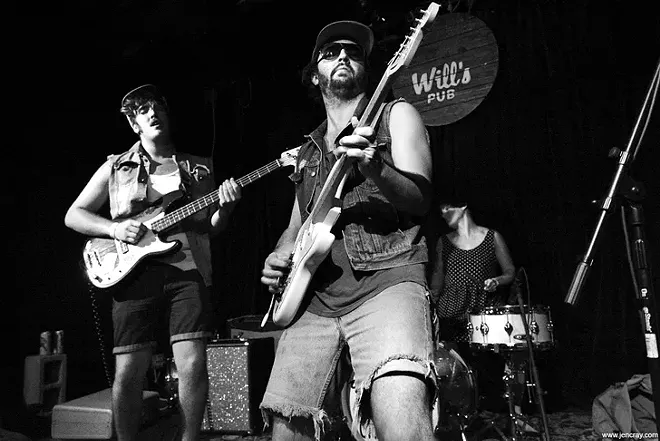 Jen Cray
The Chickenhawks at Will's Pub
Taking the night, however, in their Orlando debut were the
Chickenhawks.
Despite personality and wardrobe that can be a little comedic (unless the leisure-rocker pairing of a
sleeveless denim and sandals
has become a legit thing while I wasn't looking), they actually have some pretty serious chops and fire when you get right down to it.
Jen Cray
The Chickenhawks at Will's Pub
They ball up early rock & roll jump, the golden vintage hues of surf and rockabilly octane and pitch it with a
raw punk sling.
All together, it's an undeniable union of old music, new attitude and high camp that equals a
lot of ridiculous fun.
Jen Cray
The Chickenhawks at Will's Pub
Jen Cray
The Chickenhawks at Will's Pub
///////////////////////////////////////////////////////////////////////////////////////
This Little Underground
is Orlando Weekly's music column providing perspective, live reviews and news on the city's music scene.



Follow Bao on Twitter (@baolehuu)
Email Bao: baolehuu@orlandoweekly.com