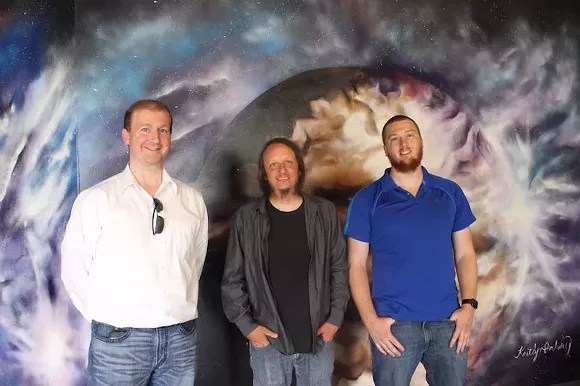 Photo courtesy Jarleene Almenas
Christopher Meyer, David Maynard, Zachary Heylmun
It's fitting that an idea for a new technology-focused escape room has come from three former Lockheed Martin employees.
"It all started when a now-retired Lockheed Martin executive went to an escape room in Orlando," says David Maynard, the Chief Technical Officer for
Digital Escape Velocity Escape Rooms.
"He calls us up after and says 'Unlimited funding, unlimited time, what would you make?"
The result is an Avalon Park escape room that aims to make you feel entirely immersed in the experience. In other words, Digital Escape Velocity is trying to completely hide the man behind the curtain.
While there are many escape rooms in Orlando, DEV is looking to improve the basic formula of the escape room experience by not breaking the fourth wall as much as possible.
"One of the escape rooms we went to had a puzzle where a key dropped from the ceiling, but it fell in between the floorboards," Maynard said. "A worker had to walk into the room mid-scenario and hand us another key, and it killed the motif. One of the workers there said 'Oh, that happens all the time.'"
DEV hopes to eliminate those kinds of jarring moments by integrating technology and software into the escape room puzzles, hopefully to make the experience feel more immersive.
"Our software infrastructure lets us monitor everything, where the concept of one puzzling finishing and another beginning, it all happens automatically," Maynard said. "We can change the order of the puzzles and their difficulties with a single click."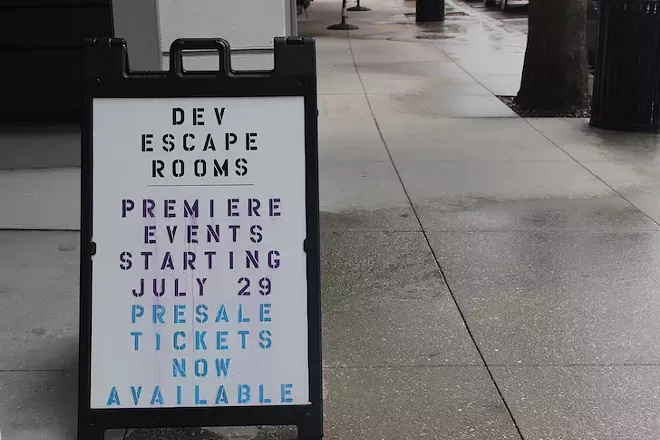 Photo courtesy Jarleene Almenas
The grand launch is in mid-September
A key aspect of DEV's desire to create a more immersive experience is blending the software and physical environment in the escape room. To that end, they've used three 3D printers to create many of the props and objects that fill the puzzle rooms.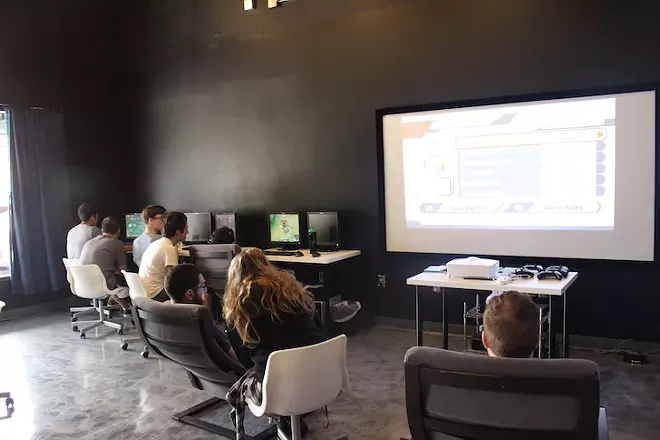 Photo courtesy Jarleene Almenas
The main area has video games for kids to play, as well as workshops in the future.
"We wanted to integrate the physical and digital, and that wasn't going to be possible without being able to fabricate our own switches and levers and sensors and all that," Chief Scientist Zachary Heylmun said. "The cool thing about 3D printing is that you can make something in ten minutes, test it out, and if it works then great, or you can go right back to the drawing board without having to send away."
Even the Star Trek theme is purposely designed to highlight the tech focus of the experience.
"Showcasing technology was paramount for the first scenario,"Meyer said. "A sci-fi story lends itself so well to everything technology is capable of."
The three employees made it a focus to apply their software experience towards the project. "We're software engineers, we're computer scientists, most of us have masters degrees," says Maynard. "This dude right here is so smart he took masters-level artificial intelligence in Japan in Japanese," Maynard says while pointing to DEV CEO Christopher Meyer. "And he's from Kansas." The company's in the middle of the soft launch for its first escape room Sol Solution, a tongue-in-cheek homage to Star Trek, with Starfleet-esque uniforms and all.
DEV expected a few hundred sign-ups for their soft launch, and ended up with around 1200. They're letting all 1200 try the escape room for free before the grand launch in mid-September.
They're planning a second scenario to be completed later in the year, and have even bigger plans to franchise out of Orlando.
Grand Launch mid-September| 3873 Avalon Park E Boulevard, (407) 930-8047 |
digitalescapevelocity.com
|