Actress Krysten Ritter, known for her roles in Marvel's
Jessica Jones
and AMC's
Breaking Bad
, has linked with the People for the Ethical Treatment of Animals in a new ad campaign urging SeaWorld to free its orcas.
The ad shows the actress in a black and white swimsuit, banging against the glass of a tank, with the words "Break Free."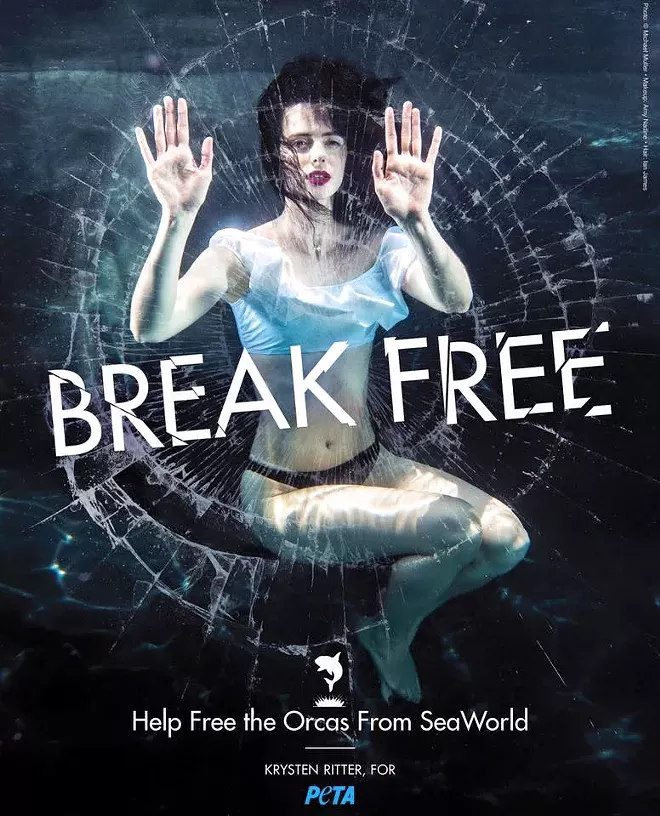 Photo via Krysten Ritter/Facebook
"Orcas are meant to swim for 100 miles a day. They would have to swim back and forth 3,100 times in their tank to make up for that exercise," says Ritter in an interview with PETA.
"They are paired with other orcas who maybe don't even speak their same language," she adds, referring to SeaWorld's practice of ignoring the whales' complex communication systems and natural family groups when putting them into captivity. "It would be like you and I trapped in a bathtub and you spoke French and I spoke English. There [would be] no way for us to communicate."
This new ad campaign comes at a bad time for SeaWorld, who just yesterday announced that their stocks have hit a record low, according to
CNN
.