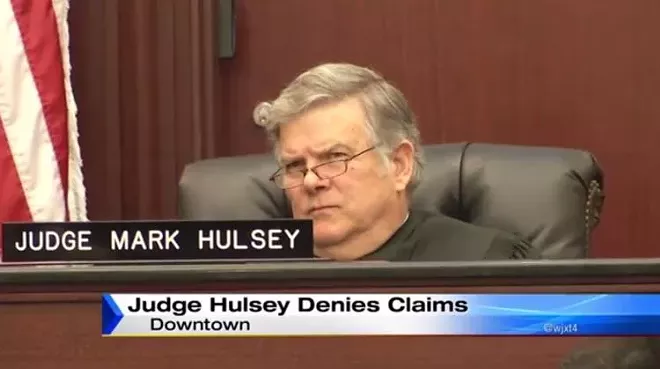 A lawyer for Death Row inmate Terrance Phillips wants the Florida Supreme Court to order an investigation into allegations of racism involving the circuit judge who sentenced the Jacksonville man to death – including accusations that the judge once said blacks should "go back to Africa."
Judge Mark Hulsey, elected in 2010 in the 4th Judicial Circuit (covering Clay, Duval and Nassau counties), is already the subject of an inquiry by the state Judicial Qualifications Commission, which on July 19 filed a notice of formal charges against him for allegedly
making sexist and racist comments and for a lack of knowledge
about "basic information about capital trial procedures."
Death Row inmate Terrance Phillips
The judge disputes the allegations.
Phillips' lawyer, Martin McClain, filed a motion Thursday to "get the facts" regarding Hulsey's alleged misconduct, asking the Supreme Court to assign a judge from outside the circuit to oversee the proceedings.
Information made public in the Judicial Qualifications Commission's notice of formal charges, unavailable to Phillips at the time of his trial in 2012, "calls into question the impartiality of Judge Hulsey when he presided over Mr. Phillips' trial and imposed death sentences," McClain wrote in the 15-page motion. Phillips is black.
Other black defendants whose cases were overseen by Hulsey "are living with the fear that the proceedings were infected by racial prejudice," but questions about Hulsey's impartiality also affect "the public at large and all residents of Florida," McClain wrote.
"The integrity of the judicial system as it operated in Judge Hulsey's courtroom is at issue. And the public is entitled to prompt resolution of the matter so that it will know if justice free from racial prejudice was administered, and if not when will it be," he wrote.
In 2012, Hulsey sentenced Phillips to death for the murders of Mateo Perez and Renaldo Antunez-Padilla, who were killed after an altercation involving several other people on Christmas Eve in 2009. Phillips was 18 years old at the time the murders occurred. By an 8-4 vote, a jury recommended that Phillips receive the death penalty for each killing.
McClain argued that Phillips' lawyers would have tried to get Hulsey disqualified from presiding over the case if they had been aware of the racially charged comments.
"Does the fact that the statement was not disclosed until now mean that Mr. Phillips must just live and/or die with his well-grounded fear that a racially prejudiced judge presided over his trial and sentenced him to death? Doesn't the fact that the alleged statement was not disclosed give Mr. Phillips more reason to fear that Judge Hulsey was racially prejudiced against him and just trying to hide his prejudice so that he could legally remove Mr. Phillips from society by imposing a death sentence in lieu of making Mr. Phillips get 'on a ship and go back to Africa,' " McClain wrote.
Judges have considerable discretion in their rulings regarding the admissibility of evidence and in the jury-selection process, McClain said in a telephone interview Thursday.
"So there's plenty of opportunity for racist views to affect the proceedings, even unconsciously, on the judge's part. That's over and above the discretion to impose a death sentence," McClain said. "If he thinks African-Americans should go back to Africa, and he's sentencing an African-American, does anyone think that's proper?"
According to the notice of charges filed by investigative panel of the commission that oversees judges, Hulsey in 2011 "offhandedly observed" to an aide that African-Americans "should go get back on a ship and go back to Africa."
The panel also accused Hulsey of referring to a female staff lawyer as a "bitch" and a "c—-," after she complained to the chief judge that Hulsey was overusing staff attorneys, and of demeaning female staff lawyers by likening them to "cheerleaders who talk during the national anthem."
After the panel filed the notice of formal charges last month, Hulsey, who is facing an opponent in his re-election bid this year, disputed the allegations, saying he has "demonstrated his commitment to the principles of equal justice for all" since joining the bench in 2011.