Hillary Clinton told a crowd of about 3,000 enthusiastic supporters in Kissimmee that her economic plan would create about 650,000 new jobs for Florida compared to Republican nominee Donald Trump's plan, which could lose the state 200,000 jobs.
The Democratic nominee is basing her numbers on a
report
from Moody's Analytics that calculates Trump's policies would lose 3.5 million jobs and create a downturn that would last longer than the Great Recession, according to
CNN Money
. The same report predicted a Clinton administration would create
10.4 million jobs
in her first four years if elected president.
"Would you rather have a president that says you're fired or you're hired?" Clinton asked the cheering crowd at Osceola Heritage Park.
Before Clinton's speech, former Colorado congresswoman and Florida resident Pat Schroeder introduced her, saying that while Clinton may look establishment, once she burrows into a place, she starts chewing away at things that are wrong. U.S. Sen. Bill Nelson also told the crowd Clinton's vice presidential pick Tim Kaine is one of his best friends and is "the real deal."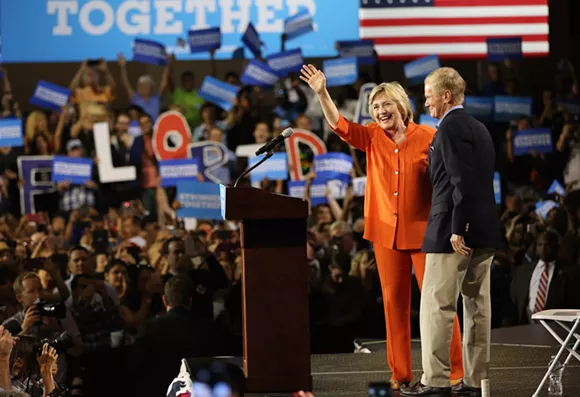 Clinton talked briefly about the mass shooting at the gay nightclub Pulse that killed 49 people almost two months ago, praising Mayor Buddy Dyer and other Orlando officials for their leadership.
"I know many people and family members are still grieving," she says. "I want them to know we will be with you as you rebuild your lives and as you rebuild your hope for the future. We can't ever let that kind of hatred and violence break the spirit, break the soul of any place in America."
The former Secretary of State says it's time for the country to invest in clean renewable energy, create access to high-speed internet, make community college free and "make the wealthy pay their fair share." Clinton also focused on new Puerto Rican arrivals to Central Florida, saying the island and its people were important to her when she was a senator from New York.
"I want to help the people in Puerto Rico," she says. "I want to do everything I can to make sure they're not left out and left behind. They are part of our family."
Clinton ended by saying the vote between her and Trump is really a bigger choice between two different views of who Americans are.
"Let's do everything we can to win this election and create the kind of change that will lift people up, not push them down," she says. "Let's win and then let's build the future."