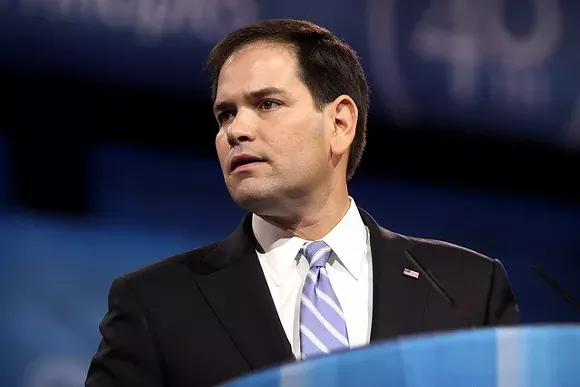 U.S. Sen. Marco Rubio, who last we heard does not have a uterus, nonetheless decided to give his opinion on what pregnant women infected with the Zika virus should do.
The Republican senator who is up for re-election told
Politico
he was "going to err on the side of life" and come out against abortions for pregnant women who have the virus even if they know their children could be born with severe microcephaly.
Microcephaly, a condition where a baby's head is smaller than average, can range from mild to severe. Babies with mild microcephaly can grow up to be independent adults who lead normal lives. But according to the
Centers for Disease Control and Prevention
, the problems associated with severe microcephaly include seizures, developmental delays, intellectual disabilities, feeding and movement issues, hearing loss, vision problems and life-threatening complications.
"Obviously, microcephaly is a terrible prenatal condition that kids are born with," Rubio tells Politico. "And when they are, it's a lifetime of difficulties. So I get it. I'm not pretending to you that that's an easy question you asked me. But I'm prolife. And I'm strongly prolife. I believe all human life should be protected by our law, irrespective of the circumstances or condition of that life."
To his credit, Rubio has voted in Congress for money to fight Zika, and even supported President Obama's $1.9 billion bill for Zika, which ultimately failed. One of Rubio's opponents for his seat, U.S. Rep. Patrick Murphy, condemned Rubio's statements.
"Zika is most dangerous for women who are pregnant or thinking of becoming pregnant, yet Marco Rubio still opposes a woman's right to make her own health decisions," Murphy says. "Florida women need a fighter who will stand up for their right to choose and who is committed to getting our state the critical funding needed to fight this virus. It's clear that Marco Rubio will always put his ideology above women's health care — and our families deserve better."