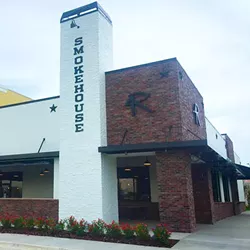 Photo courtesy 4 Rivers via Twitter
For those of us who remember standing outside in the blazing heat on Fairbanks Avenue for an hour waiting for a taste of John Rivers' melty, smoky brisket doused in sauce with a giant cupcake on the side, then sitting outside in the blazing heat devouring it all, it's hard to believe that the 4 Rivers empire is about to stretch to 12 locations throughout Florida.
The
Kissimmee location on West Osceola Parkway
is scheduled to open tomorrow – to great fanfare, we're sure. Residents of the area will be able to eat as much brisket, pulled pork and bacon-wrapped jalapeños as they can muster without having to leave South Orlando.
In the coming months, 4 Rivers will expand further: to Coral Springs in late 2016 and as far north as Atlanta in 2017, according to the company website. No word yet as to whether any new
Coop
locations are planned, but we're crossing fingers.
4 Rivers Smokehouse — Kissimmee
874 W. Osceola Parkway
Kissimmee, FL 34741
4rsmokehouse.com