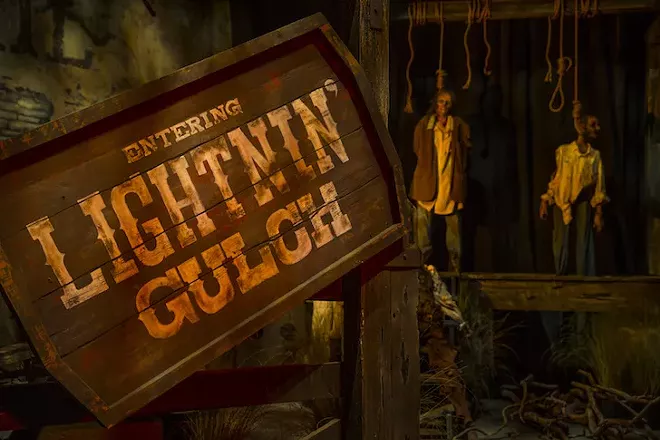 Photo courtesy Universal Orlando
While Universal Orlando has been steadily releasing info for the franchise houses at Halloween Horror Nights 26 (
Halloween
,
The Exorcist
,
The Texas Chainsaw Massacre
,
The Walking Dead
,
Krampus
), they've finally unveiled three original houses they came up with on their own, as well as five scare zones and two shows.
Wednesday afternoon, Universal's official blog dumped a ton of new
info and videos
for the upcoming attractions.
Here are a few of the highlights:
Lunatics Playground 3D - You Won't Stand a Chance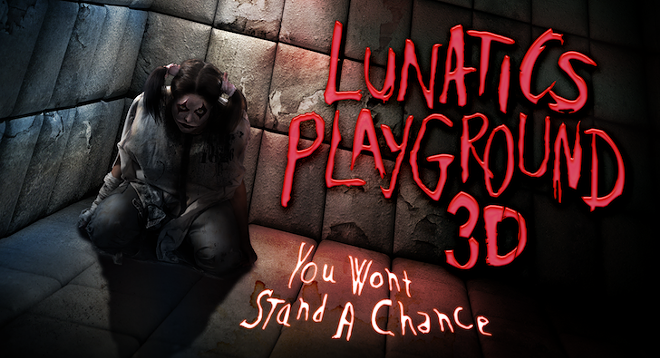 Franchise icon Jack the Clown is being shelved this year after last year's 25-year anniversary, and taking his place will be his sidekick Chance. The house focuses on her twisted mental state and incorporates 3D sections, as well.
Ghost Town - The Curse of Blood Gulch

This house focuses on the tragic tale of the doomed prospectors who went searching for gold, but instead found something else. Whenever lightning strikes, the Curse of Blood Gulch makes this haunted Wild West town appear. Plus, it's got ghost prospectors, which should be enough to sell you.

Tomb of the Ancients
The Ancient Ones, immortal beings from the past, have been unearthed from hell itself, and are coming to punish the whole world. The video has Egyptian hieroglyphics and imagery, so expect some mummies to scare you half to death.
They also released
descriptions
of the five scare zones:
Survive or Die – A global catastrophe has ruined Earth's atmosphere. One group of survivors secured a machine that provides clean air. The two other surviving groups are on the hunt to gain control of the machine and are recruiting new members to help them. You can either join them or feed their staving ranks. Which will you choose?

Banshee's Lair – Travel deep into the forest where evil spirits and horrific creatures of the ancient world roam free. Mother Nature's magical barrier of vines has been torn away and the modern world has found the entrance to this corrupted grave.

Dead Man's Wharf – When a fishing vessel named Annabel Lee never returned to the harbor and was lost forever, the wharf was left uninhabited as a memorial to her. Now, a strange fog has rolled into the village. And the long-lost fishermen's spirits seek to punish the town that left them.

Vamp 1955 – Welcome to Hollywood High School's 1955 Homecom
ing Parade. Everything is in place, until the greasers roll into town with fangs instead of switchblades. It's a procession of chaos with vampires ready to take a bite out of anyone in sight.

A Chance In Hell – Get ready for the audition of a lifetime. Chance may be locked away, but that hasn't stopped her. As the alarms ring and the bloody remains of those who tried to stop her lie around, she's busy recruiting cellmates to join her biggest act yet.
As for the shows:
Academy of Villains: House of Fear – Join this high energy performance troupe of inmates in an explosion of insanity that will thrust you into a realm of mayhem and maniacal terror featuring dance and specialty acts.

The Show Must Go On! Bill and Ted's Excellent Halloween Adventure – No Halloween Horror Nights would be complete with these "excellent" dudes! The Wyld Stallyns return with an all-new Halloween adventure.
All in all, it's a pretty diverse lineup. There's still one house yet left to be revealed for this year, which hopefully will be as creative as ghost cowboys and 1950's high school bloodsuckers.
Halloween Horror Nights starts September 16 and you can buy your tickets
here
.