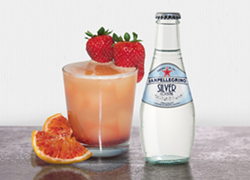 Photo courtesy San Pelligrino
Temperatures are already dropping a little (hey, 90 degrees feels way different than 95 degrees!), and the end of summer is nigh, so if you've been planning to have that big bash that would be the talk of your troupe, this is the time to polish up your host-with-the-most skills.
Tomorrow (Tuesday, Aug. 21) at 6:30 p.m., chef Kathleen Blake will host a
summer cocktail how-to class (partnered with San Pellegrino)
at her downtown gastropub,
the Rusty Spoon
. You'll learn to make a couple of summer-ready cocktails, and chef Blake will provide seasonal bites to pair with the sips.
Each guest gets a swag bag, so you can make the bites and beverages at home when you've got your peeps in-house. And the event is a steal — tickets are just $15 per person (a great first-date activity, if you ask us).
The Rusty Spoon

55 W. Church St.
407-401-8811
therustyspoon.com