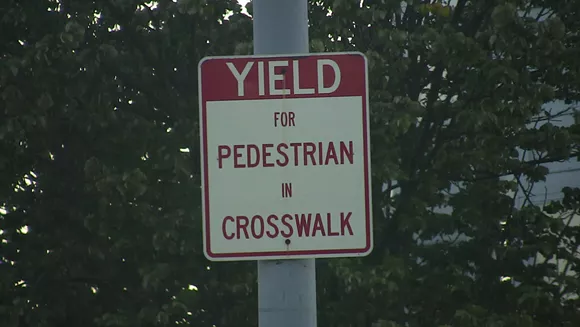 If your daily commute takes you over a pedestrian crosswalk (y'know, those white-striped pathways marked with signs and flashing lights that sometimes show up in the middle of a block), you'd better be paying attention tomorrow morning.
To focus attention on their Best Foot Forward program, the Orlando Police Department and Orange County Sheriffs Office are teaming up Thursday morning to catch scofflaws. They'll be in plainclothes, walking back and forth across crosswalks and ticketing drivers who fail to stop for pedestrians as required by law. Failing to yield can get you a $164 citation and three points on your drivers license.
OPD and OCSO will monitor several crosswalks in areas like Universal Boulevard (the site of a hit-and-run earlier this year) and Central Boulevard near the Orange County Public Library (where a driver
fatally hit an 88-year-old library volunteer
crossing the street in April). And no, we aren't telling you where they'll be, though we will tell you that the locations are spread pretty well throughout the city.
Orlando is ranked as the
most dangerous metro area for pedestrians
of the past decade –
most
dangerous! of the
decade
! – so change can't come soon enough.