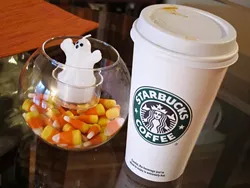 Photo courtesy of Starbucks
It's Sept. 1! Cue the Earth, Wind and Fire and pull up those Uggs because all things pumpkin spice have officially returned.
So far today, we've seen sponsored social media adverts for
pumpkin-spice milkshakes at Steak 'n' Shake
and pumpkin cream cheese at Einstein Bros. Pretty sure it'll be ubiquitous in no time flat.
Meanwhile,
we're getting ready for Hermine to drench us all
. But no matter, you'll have your PSL to keep you warm and dry, since Starbucks has released the PSL Fan Pass, which will net you a toasty cinnamon-nutmeg syruped coffee drink before any of the other basics can get to them when they release to stores on Sept. 6. You win at life.
Just go to
PSLFanPass.com
and you'll get a text that you can show to the barista that signifies your entrance into the exclusive PSL club (bonus points if you follow the PSL's official Twitter handle:
@TheRealPSL
).