In the end, the surprise wasn't so much that Alan Grayson's barn-burning campaign for the Democratic U.S. Senate nomination imploded. It was that he got as far as he did, using a moderate Central Florida swing district in 2008 as his launch pad. Thanks to a committed Orlando-area coalition, and a broad, equally devoted following among his party's progressive base, this brash, arrogant, unabashedly left-wing New York Jew, the son of two public school teachers and union activists, became a national figure over the eight years that followed.
Yet few of those who knew him and worked with him were shocked by his
precipitous downfall on Aug. 30
. Nor were there many tears shed among the cautious and the well-mannered of both parties who always resented him. The prevailing reaction among them was that he got what was coming to him.
Grayson, 58, a self-made tech millionaire with three Harvard degrees, and an effective trial lawyer who dogged Iraq defense contractors for profiteering during the Iraq War, was the engine of his own destruction. On Capitol Hill, his slashing rhetoric made him enemies not only among his Republican and conservative opponents, but among his Democratic and progressive allies.
Although to be fair, Grayson was also the engine of his own creation. Thanks in large part to happenstance – and seemingly against all odds – he created himself as a warrior and standard-bearer for the Democratic Party's progressive agenda.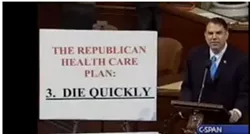 In politics, timing can be everything. During the 2009 debate over Obamacare, when the drive for health care reform seemed hopelessly blocked by Congressional Republicans, a
heretofore obscure Democratic freshman
took to the floor of the House of Representatives, standing next to an easel. In a few minutes, Alan Grayson characterized the Republican plan for health care as not to get sick or, if you did, to "Die quickly!" Frustrated Democrats around the country rejoiced.
That brief diatribe instantly launched Grayson into the media spotlight. Luck favors the prepared, and like a good litigator he was ready. He exploited his media lightning strike with an immediate appearance CNN, followed by numerous shots on MSNBC and Bill Maher's "Real Time."
Grayson relished his outrageousness, comparing Dick Cheney to a vampire and the Tea Party to the KKK. He demonstrated that he was not afraid of a fight, or of hard-edged rhetoric. "Is it a necessary element of this job that I take shit from people?" he asked me years ago in his Capitol Hill office.
In Florida, where feckless Democrats have consistently gone down to defeat with "me-too" candidates, this was bracing stuff. Grayson's continuing media presence enabled him to build a national fundraising base. More than 150,000 of these supporters fueled his Senate campaign, with small contributions – averaging under $20.73 – a record for any Congressional campaign this year.
But, through his arrogance, he destroyed a real chance this year to join Bernie Sanders and Elizabeth Warren in the U.S. Senate. And the ironic thing was that, up until the last month of the campaign, he might have won.
Riding Grayson's red-white-and-blue campaign bus around the state in the weeks before the primary offered an insight into the love-hate relationship Florida voters have with Alan Grayson, and how he ran out of gas.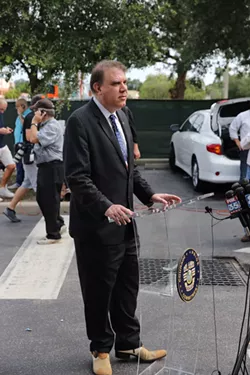 On a sweltering August afternoon, the beleaguered candidate, wearing a wilting charcoal chalk-stripe suit, a stars-and-stripes tie, and garish gray-and-yellow snakeskin cowboy boots, is desperately trying to change the subject.
Charges of domestic abuse from the second of his three wives exploded during at the Democratic National Convention in Philadelphia in late July, where 15,000 reporters had gathered, and the allegations have since dominated media coverage of what
New York
magazine called "the second-most-bizarre campaign of this election season."
Standing on the grass in front of the Palm Beach County Courthouse with fellow senatorial candidate Pam Keith, Grayson argues to a handful of reporters that the low-polling Keith (who, ironically, would finish just a few points behind Grayson in the primary) should be included in any future Democratic debates with the third and favored candidate in primary, Palm Beach Congressman Patrick Murphy.
"Let's face it," says Grayson, in his standard attack mode, "Patrick is an empty suit." A few minutes later he describes Murphy as "a faker and a con artist," and "a sock puppet," motivated by "entitled arrogance."
But just feet away from the curbside press conference, Grayson's campaign manager and communications director are huddling anxiously over their phones. They are getting the news that Murphy, citing the domestic abuse charges, had just backed out of the two men's lone scheduled debate, on Orlando's WFTV. The move eliminates one of their candidate's few remaining opportunities to score a come-from-behind knockout blow against Murphy.
So it goes on Grayson's statewide bus campaign, which could be heading for the end of the road for the firebrand candidate.
***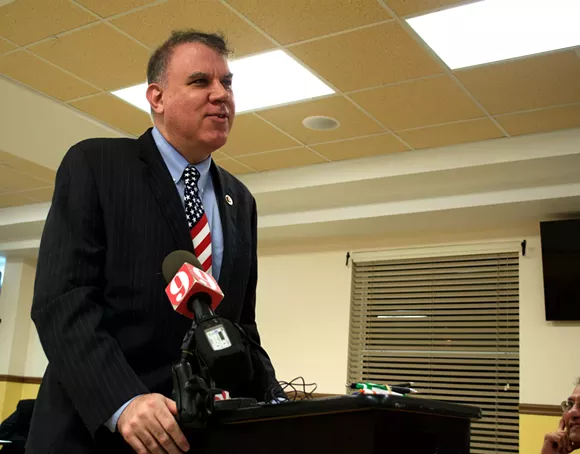 Photo by Monivette Cordeiro
Along the side of Grayson's campaign bus, above the candidate's name, are three words: "Justice," followed by a drawing of a red fist; "Equality," followed by an equals sign; and "Peace," followed by the iconic symbol from the '60s. Inside, the vehicle is stripped-down and Spartan. The front half is tricked out as a kitchen with weathered cupboards, a sink, refrigerator and stove. There's a drop-down table with two cushioned benches facing. On one of them, Grayson works almost nonstop on his laptop between appearances.
Absent is any entourage to speak of. The only other passengers are his young campaign manager, Michael Ceraso, and communications director David Damron, a former
Orlando Sentinel
reporter. On this day, as the bus heads to a local Fox affiliate for another interview, the two work on a tempered response to Murphy's debate withdrawal, running it by Grayson for approval. Later, Grayson distills his reaction, telling reporters Murphy is just using a "lame excuse" to avoid him.
Earlier in the day, the first Palm Beach stop was at Dontee's Diner, a popular, free-standing eatery in the parking lot of the Belmart Plaza shopping center. There, as expected, reporters from the
Palm Beach Post
, whose offices are almost in sight of the restaurant, and the
Miami Herald
try to grill him about the domestic abuse charges.
The hulking, slightly hunched candidate is clearly frustrated. Like many successful officeholders, Grayson is a relentless self-promoter; he would much rather talk about his legislative record of passing more than a hundred bills and amendments and garnering millions of dollars in federal grants for his constituents, most recently $2.2 million for Osceola County to build the state's largest high-tech "clean room" for the Florida Advanced Manufacturing Research Center.
The online magazine Slate once described Grayson as "The Most Effective Member of the House," which he never fails to mention in interviews. He also wants to push the main themes of his campaign, "Seniors Deserve a Raise," an increase in Social Security payments (a slogan also printed on the side of the bus), and his "Eyes, Ears and Teeth" Medicare expansion. After some initial spikiness with a reporter, he wearily agrees to run through his response to a half-dozen abuse charges.
The attack on Alan Grayson at the Philadelphia convention bore all the hallmarks of a classic political hit, engineered by seasoned opposition researchers. In Congress, Grayson was one of only a handful of members to oppose drone strikes against suspected terrorists in Pakistan, calling a hearing to focus on civilian casualties. Grayson's insurgent Senate campaign may have been destroyed by a similarly precise attack.
It began with an email to Politico from Grayson's former wife, Lolita Carson-Grayson, charging four incidents of abuse, in Virginia and Orlando, over a 20-year period, and including police and hospital reports. Hungry for news on the first day of the convention, members of the media scrum were not inclined to examine each of the incidents. With four allegations, the predictable feeding frenzy consensus was that "where there's smoke there's fire."
The same Democratic oppo researchers who launched the attack may also have reminded the Politico reporter of an incident in Grayson's 2012 comeback congressional campaign. That year, in a debate at Orlando's Tiger Bay Club, Grayson sprung a similar police report, alleging domestic abuse by his hapless Republican opponent, Todd Long. That historical tidbit made the Grayson accusations in Philadelphia even more delectable, seasoning his just deserts with a healthy dollop of hypocrisy.
Grayson, whose political career is replete with unforced errors, then made another. He gave the story legs – and, worse, a visual that soon went viral. He showed up at a Politico technology session at the convention, where he and the reporter who wrote the abuse story became embroiled in a sweaty shoving match. Eyes glazed, Grayson threatened the reporter with arrest by Capitol Police. The encounter,
captured on a Mother Jones reporter's cell phone video,
reinforced Grayson's crazy-man image.
The blowback was instantaneous, with two of Grayson's longtime allies, the Progressive Change Campaign Committee and Democracy for America withdrawing their endorsements. The Communications Workers of America, one of the few national unions to endorse Grayson, said they were reconsidering theirs. There were resignations by a number of high-level Grayson campaign staffers, along with a consultant. Several women's domestic abuse groups, assuming the allegations were true, also denounce Grayson. Pundits and journalists,
including Orlando Weekly
– and me, in a WMFE-FM interview with Catherine Welch – say his candidacy is finished.
To a considerable degree, Grayson was blindsided by the Politico charges. He says the story came as a complete surprise to him, since police in Virginia and Orlando never considered the four allegations credible enough to pursue, and never contacted him about them. He says the timing of Lolita Grayson's email to Politico, during the Democratic National Convention, was not coincidental: "You'd have to be a fool to think it was." The attack, he says, comes from his party's "tool chest to elevate right-wing Democrats over progressives" like himself in Senate races across the country.
Within hours of the report, Senate Minority Leader Harry Reid, Grayson's personal Nevada nemesis, who had long backed Murphy and urged Grayson to withdraw from the race, tells a reporter: "We are feeling really good about what's going on in Florida with Grayson's ex-wife telling everybody what a rat he is."
In the play and movie
A Man for All Seasons
, Sir Thomas More cautions a friend who says he would cut down every law in England to help his cause. More says, "And when the last law was down, and the Devil turned 'round on you, where would you hide?" Over the course of his volatile political career, Alan Grayson had cut down, offended or alienated almost every one of his influential friends, allies and former staffers. His disdain for those who disagree with him, or cross him, has made him about as popular among Capitol Hill Democrats as fellow Harvard grad Ted Cruz is among his among his GOP colleagues.
Many Democrats who have worked with Grayson, even those who agree with his political positions, can't stand him. Supporters have found him to be an increasingly problematic progressive. An Aug. 4 column on the liberal web site Daily Kos, citing the abuse charges, carries the headline, "I side with Alan Grayson on policy issues, but he will never have my vote." Even former Massachusetts Congressman Barney Frank, an outspoken progressive who once came to Orlando to raise money for Grayson's congressional reelection campaign, threw his support to Patrick Murphy. So when the abuse revelations came, Grayson had almost no one willing to come to his aid, apart from his lawyer, Mark Nejame.
Naturally, in the current atmosphere, any defense in the face of multiple accusations of domestic abuse is bound to appear suspect and self-serving. Nonetheless, Grayson offered to provide to reporters at Dontee's restaurant a 30-page brief detailing and refuting the charges he submitted to the Florida Department of Children and Families, which has taken no action against him. Three of his children have chosen to live with him, he points out, and he has filed for custody of the other two. In his account, Lolita Grayson's mental instability makes Mary Todd Lincoln look like Betty Crocker.
His ex-wife, Grayson says, has also made abuse complaints against three of his children. He once came home to find his oldest daughter being handcuffed by police. His wife, he says, slashed the interior of one of the family cars with a knife, and torched a neighbor's vehicle. Grayson has charged that his wife struck him repeatedly, and recounted the incident in Orlando in March 2015. On that occasion, his wife accused him of abuse, but a cell phone video revealed that in fact his wife struck him several times. "She lied," he repeats. "We are the victims of the abuse."
As the restaurant interview trails off, Grayson is able to order and quickly put away a hefty lunch of eggs, hash browns and bacon, wrapping up two buttered English muffins in a napkin as he boards the bus. Like many campaigns, Grayson's forays have an improvised, ad hoc feel to them, as if they are being planned the day before, if not on the fly. In this case, however, that is literally true, and no mistake, according to Brook Hines, a campaign spokesperson. "We are not sending all the details of the routes, because we've got 'trackers' who'd like to follow us," she tells Politico. The concern, she says, is that these trackers from other campaigns will show up to record or disrupt the events, although trackers are now standard practice in hotly contested races.
The Grayson campaign forays tend to be day trips, originating in Orlando. On weekends, he attends African-American churches and touring troubled public housing complexes in Jacksonville and Tampa, or participating in Black Lives Matter demonstrations. He calls a Zika town forum in Miami Gardens on Aug. 6, in another effort to change the subject from the abuse charges. At the meeting Grayson charges that "Gov. Rick Scott, in his fervor to cut public programs to provide tax cuts for business, gutted funding that supported mosquito research and control in Florida, leaving us unarmed as we now face a life-and-death public health emergency." In the past, Grayson has made another, more typically pithy charge, aimed at Republican members of Congress (including Marco Rubio) who have failed to increase funding to fight the virus. The GOP's plan for mosquito-borne Zika, Grayson says, amounts to this: "Don't get bit," echoing his original, image-making jibe on the floor of the House.
The timing of the domestic abuse story, and another several days later in which Lolita Grayson charged that her former husband had been unfaithful during their marriage, is worth a closer look. With the marriage dissolution long settled, what motive – apart from the usual in such breakups, vindictiveness and revenge – would Lolita Grayson have for contacting Politico at the convention?
Otherwise, with its anti-establishment zeitgeist, 2016 could have been Alan Grayson's year. If Bernie Sanders and Elizabeth Warren had a brilliant, political love child – albeit one with no impulse control – it would be Grayson. His long-held policy positions, like strong and consistent support for the LGBT community, are nearly identical to the two progressive U.S. Senators, both of whom have the advantage of representing far more liberal states than Florida. Grayson backs universal health care, including a Medicare buy-in for people 55 and over; free public college tuition; and he opposes U.S. military intervention abroad, and the militarization of police departments at home. He is remembered by his Congressional constituents for launching an effective legal crusade to save Florida residents from mortgage foreclosure in the wake of the housing crisis.
Hours before the abuse story breaks at the Philadelphia convention, I am interviewing pollsters, consultants and political scientists in Orlando. The emerging consensus is that Grayson has a strong shot to win the Democratic nomination, benefiting from what appeared to be the year's insurgent wave. Late-summer primaries like Florida's, especially those with no major state races, are lucky to generate a 20 percent turnout. That means they are essentially base contests, and thus dependent on the complex calculus of who shows up to vote. Such primaries are so volatile and unpredictable that some polling organizations avoid them.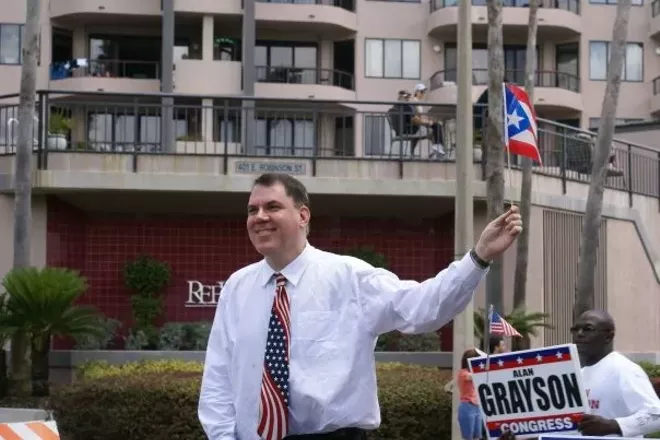 Photo via Alan Grayson's Facebook
The experts I speak with say Grayson has a legitimate crack at the nomination, given his strength among seniors, African-Americans, Hispanics, working- and lower-middle-class voters of all races, the LGBT community, union members and idealistic young people in the state who supported Sanders. After all, this is the same coalition that carried Grayson to victory in Central Florida Congressional races in 2008, 2012 and 2014. Symbolically, the Park Lake house that used to be Sanders' Orlando headquarters becomes Grayson's, the nerve center for mobilizing his supporters, a dozen of whom gather on a Tuesday evening to make phone calls on his behalf.
At least until the abuse story breaks, Grayson is able to hold his own in the face of near-unanimous opposition of the national Democratic Party's Beltway establishment.
Party leaders, desperate to regain control of the Senate, thought they saw an opening when Marco Rubio announced for President – and said unequivocally that he would not run for re-election. Even more so when a weak, divided Republican primary field emerged to replace him.
If the Democratic National Committee and the Democratic Senatorial Campaign Committee had used Amazon Prime to order an ideal candidate to pick up a seat in a swing state, Patrick Murphy would have been delivered to their doorstep the next day. In 2012, the former Republican and moderate liberal took a Congressional seat from Tea Party crackpot Allen West, a campaign bankrolled by Murphy's construction magnate (and still Republican) father, Thomas Murphy Jr. In the Senate race, the personable, attractive, young Murphy – Grayson's polar opposite – relies on his father for financial backing. The elder Murphy has been willing to continue opening his wallet to support his son's political career, to the tune of more than $1.5 million to two Murphy for Senate PACs, according to the latest FEC filings.
The Democrats' national party leadership pulled out all the stops for Murphy: endorsements from President Obama, Vice President Biden, Senate Minority Leader Harry Reid, and his likely successor, Charles Schumer. They have appeared at his fundraisers, yielding a combined $10 million war chest, including more than $1.5 million from Wall Street donors. This has enabled Murphy to hire a hefty, protective, campaign staff. Obama cut two television spots for Murphy, which began airing in mid-July, and haven't stopped.
Biden has made three trips to the state to appear with Murphy. Two influential, liberal unions, the NEA and SEIU, added their backing. On August 8, Orlando's Buddy Dyer became the 22rd Florida mayor to endorse Murphy, joining most of the state's Democratic congressional delegation. Most recently, the Congressional Black Caucus announced it was supporting Murphy, raising questions about Grayson's ability to mobilize one of his core constituencies in the primary.
And yet, for all of this muscle – all the king's horses and all the king's men – polls in the first seven months of 2016 show no significant – or even consistent – rise in Murphy's numbers. He fails to open a dramatic lead against Grayson. A Quinnipiac poll released August 11 finds Rubio ahead of Murphy, 48-45; and Rubio ahead of Grayson, 49-43. Another, from Monmouth University, released August 17, puts Murphy's support against Rubio at 43 per cent, and Grayson's at 39 per cent – the abuse charges notwithstanding.
Despite his expert handling, Murphy proves to be a dud as a campaigner, and an elusive one at that. An amiable if uninspiring speaker, he is prone to malapropisms. Murphy eschews town hall appearances where he would have to face unscripted questioners, as well as any debates, with good reason. At one of Murphy's rare public appearances, at a Broward County Democratic club meeting, a Grayson supporter is ejected after asking why Murphy would not debate.
All of this leads the
Miami Herald
to ask, in a headline, "Is Patrick Murphy avoiding voters?" Grayson regularly refers to Murphy as "the boy in the bubble." Even Murphy backer Alex Sink, the state's former chief financial officer and gubernatorial nominee, says at a Tampa television forum on the campaign that it is "bad for democracy" that Murphy won't debate Grayson. "The optics look bad, I believe, for our candidates not to be willing to get up in front of the public and let the voters decide for themselves." Without irony, Murphy then criticizes Marco Rubio for refusing to meet with newspaper editorial boards.
Earlier, Florida television stations and newspapers report that Murphy has padded his academic, professional and environmental resumes. The latter reminds people that in Congress he voted for the Keystone XL pipeline. This prompts the Washington Post's Chris Cillizza to write that Murphy had "The Worst Week in Washington." Various Republican campaign committees, together with the U.S. Chamber of Commerce, pound Murphy with negative TV ads. One attacks him for cruising on the family yacht off Nantucket in the midst of the algae bloom crisis, reinforcing the image of a spoiled frat boy.
However, for his part, Grayson has been even less sure-footed. He has been embroiled in nonstop personal and political controversies for more than a year: the messy dissolution of his marriage, in which he dismissed the mother of his five children as a "gold digger"; House ethics charges growing out of a Cayman Islands hedge fund; a mishandled Presidential endorsement, first seeming to support Clinton, then, belatedly, and after an internet poll of his backers, pledging his convention Super Delegate vote to Sanders; and the departure of several high-level campaign staff members, well before the abuse charges surface. He also cursed out a Tampa reporter, and lashed out at MSNBC host Joy Reid when she asked him about the hedge fund. Any of these could have torpedoed a conventional candidate.
Yet despite all this, Grayson's support in the early polls has remained more or less constant. Until the abuse allegations, Grayson remained close to the margin of error to Murphy, with both candidates in the 30-35 per cent range. More than a third of registered Democrats remained undecided on the contest. It may be that, like Donald Trump's supporters, a core of Grayson's backers simply don't care about – or believe – the negative publicity about their champion.
Still, in light of the abuse allegations against Grayson, Murphy remained the percentage bet to win the nomination. As the days leading up to the primary dwindle the assumption is strong that Murphy has it sewed up. So much so that in July and August the NBC/Wall Street Journal Marist polls don't even include Grayson in its hypothetical match-up with Rubio, following the Republican's return to the race. On Aug. 19, in a sign of confidence, the Murphy campaign pulls $800,000 in pre-primary television ads, according to Politico, claiming an internal poll taken after the abuse charges put Murphy up 20 points. In the last week of the campaign, Grayson is reduced to trotting out old Congressional endorsements from Martin Sheen (
The West Wing
's beloved President Bartlet), Danny Glover and Michael Moore.
It may be because he inhabits an alternative universe, but in Palm Beach, Alan Grayson is absolutely confident he will defeat Murphy. "We're ahead," he insists, citing his own internal polls, and he says his lead is growing. While subdued, the campaign bus does not have the feel of a failing campaign, a death rattle tour. And there is some indication that they may be right.
Grayson is one of those politicians who looks better the further you get from him. So naturally, some of his strongest critics, like former supporter and major Democratic donor John Morgan, are in Central Florida. Although he has apologized for calling a female lobbyist a "K Street whore," and for comparing the death of thousands of Americans without medical care to the Holocaust, he seems otherwise constitutionally unable to admit that he has made a mistake. Like when he referred to his 2010 Congressional opponent, Daniel Webster, as "Taliban Dan" in a commercial, on the flimsy basis that the Republican's support for evangelical Christian marriage was like those of Muslim fundamentalists. Or for failing to close his Cayman Islands hedge fund, established while he was out of office, when he returned to Congress in 2013. Or even closing it immediately after the story breaks, and admitting that he made a mistake, rather than adamantly insisting he did nothing wrong.
A week after the Palm Beach trip, the Grayson campaign bus heads to the Tampa Bay area. The day begins well for Grayson, with an afternoon meeting with more than 60 Democratic activists at a Clearwater condo called On Top of the World. The age-55-plus complex is home to 10,000 year-round and snowbird residents, and several Democratic clubs. The audience, including some curious walk-ins, listens to Grayson for about an hour. Recently, Rubio has charged on a syndicated, conservative radio show that Grayson is "not well … an unstable person." If so, at the Clearwater meeting Grayson must be on his meds.
"He was quite the charmer – humorous, very smart," says Dan Bernstein, 69, a member of the Baby Boomers Democratic Club, after the meeting. "He comes across as very hardworking … He was calm, factual, sardonic."
Surprisingly – to me – no one asks about the abuse allegations. "We're not the kind of people who pay attention to Politico every day," explains the retired lawyer and software entrepreneur.
After an early dinner stop at a Hardee's Red Burrito, featuring "New Blueberry Biscuits," Grayson is off to another town hall meeting, this one in Tampa, at the red brick Seminole Heights Library. The first-floor room is full, all 65 of the brown, molded plastic seats occupied, with more people standing against the wall. The crowd is diverse: young and old, mostly white but also black and brown. There are lots of activist-type seniors, Sierra Club members, and Sanders people, by their buttons and T-shirts. And they are obviously receptive, applauding as Grayson strides in. The candidate immediately picks up on the supportive vibe. Again, he is relaxed, confident, and funny – nothing like his angry, out-of-control, media image. This incarnation of Alan Grayson could be a U.S. Senator.
In his remarks, and an extended question-and-answer session, Grayson pushes all the right buttons for his audience. He starts with the need for gun control, rehearsing the help his office gave Orlando Pulse shooting victims and their families, including expedited visas for survivors living outside the U.S. Gun control, he tells them, "is one of the defining issues of our time." He supports medical marijuana and solar power, and a $15-and-hour minimum wage. In answer to questions, he calls for the restoration of voting rights for nonviolent felons who have served their sentences, and better psychiatric care for veterans.
Then he dives into what he says are the linked issues of money in politics and economic disparity. "We have one last chance to avoid oligarchy and plutocracy," he says. "The system is becoming hopelessly corrupt." There is only one question about the abuse charges, which he answers briefly but directly. Yet Grayson seems to return to it, if obliquely. His Senate candidacy, he says, is nothing less than "a referendum on our system of government." The forces arrayed against him, including a Democratic leadership he likens to the Soviet Union's politburo, recognize that challenge: "If they can't beat you, they want to destroy you."
The crowd loves it. "He's running on a Bernie platform, and I was for everything he spoke about," says Helen Galletly, 50, an HR consultant. "I like that both he and Bernie are representing the people, and not the big corporations." Guillermo Novoa, 32, a restaurant server, likes what he heard, because the candidate "seems authentic." Novoa is persuaded by Grayson's explanation of the abuse accusations, convinced that it is part of "a smear campaign." Jae Passmore, 27, an African-American combat veteran, says he has been moved to volunteer for the Grayson campaign because, "time and time again he has shown that he supports Black Lives Matter. He's willing to speak out against injustice against marginalized people."
More critical to the primary's outcome is the reaction of people like Linda Foxlow, 66, a Sarasota travel agent, who attended with her brother, a retired newspaper editor who asked the one question about the abuse allegations. Before she heard Grayson this evening, she says, "I was all set to vote for Murphy," based on the TV ads she had seen. "After hearing what Grayson had to say, I've completely changed my mind, and I'll vote for him. I believe in the same issues that he believes in. I really liked what Grayson had to say. I'm glad I came to the town hall."
As the campaign bus drives through the night back to Orlando, stopping only for a McDonald's break, Grayson is reflective, subdued and almost philosophical about the outcome of the primary. This could well be the deeply flawed progressive's last hurrah. The effects of $3 million in television ads featuring Obama's endorsement of Murphy, airing daily in South Florida, are "a very difficult thing to counter," he says. "If the election had taken place three weeks ago, we would have won … We're facing pretty strong headwinds at this point," he acknowledges. "We'll see," repeating it twice more. "We'll see … we'll see."
Photo of Alan and Dena Grayson via Grayson's campaign for U.S. Senate
Well, what he saw was a crushing defeat on Aug. 30. Alan Grayson's willful self destruction was also evident in the race to succeed him in Congress, which was a potential minefield. Initially, the two leading candidates were Susannah Randolph, Grayson's former campaign advisor and district director; and Darren Soto, the only Puerto Rican pol in the state senate. For a successful statewide primary run, Grayson needed support from white suburban women, many of whom backed Randolph, and Hispanics, who are strongly represented in the 9th CD. Instead of remaining neutral in the contest, Grayson backed his new wife, Dena, an MD and a Ph.D, but also a political neophyte. Thus he managed to offend both Randolph and Soto backers, who felt betrayed. In the end, Dena Grayson's third-place finish siphoned off enough votes to ensure the election of Soto, a lackluster, middle-of-the-road lawmaker, rather than the progressive Randolph.
Oh, and there's this: To the end of his political career, Grayson, an economist, has remained a canny investor. He loaned his senatorial effort just $350,000. This contrasts with the millions he invested in his successful 2008 Congressional race – but not his losing 2010 re-election effort, in which – coincidentally – his personal contribution was minimal.
Mark I. Pinsky is a former Orlando Sentinel staff writer, author and longtime freelance. He has chronicled Alan Grayson's political career since 2009 for local, national and international publications and platforms. Some material above has appeared earlier in similar form in The Tablet magazine.