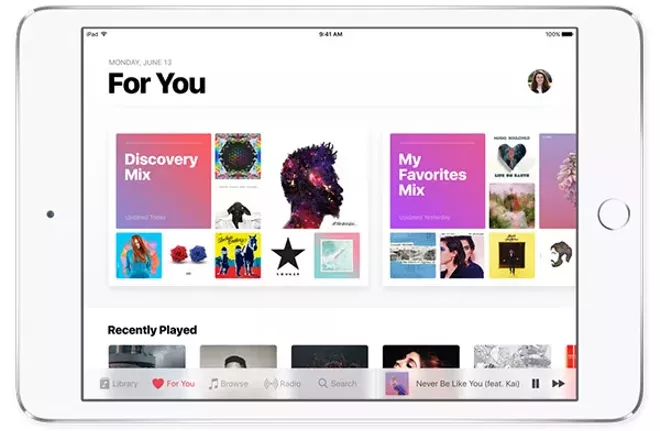 Well, Apple just had their big annual iPhone announcement, and music-lovers are pissed because the company has removed the headphone jack from the upcoming iPhone 7. It's a justifiable reaction, since we've all got drawers-full of perfectly functional headphones and, in most cases, Real Music Fans have a pair or two of really good headphones that we've spent a decent amount of money on. And all those headphones can connect to every music playback device on the planet ... except for the new iPhone. And sure, Apple is gonna be including an adapter that will allow you to connect those headphones to the iPhone 7, but hey, adapters suck. So, you know, people are pissed.
But here's the thing: not every iPhone owner is gonna immediately upgrade to the iPhone 7. But nearly every iPhone owner
will
be upgrading to the upcoming iOS 10 operating system, and in that operating system is something that should really be making music-lovers mad:
the updated Apple Music
.
Yes, yes, I know. People have been complaining about Apple Music since its debut in June 2015. "It trashed my iTunes library." "It's too complicated." "It's confusing." "OH MY GOD IT TRASHED MY ITUNES LIBRARY." And clearly Apple
heard these complaints
, as it's completely repackaged Apple Music for iOS 10. The UI is simpler. The organization is clearer. The library-matching functionality is vastly improved (or, at the very least, presents a much lower risk of trashing your iTunes library).
But in making these improvements, Apple has ignored the single best thing about Apple Music: It is the streaming platform for those of us who are serious, engaged music fans.
Although those library-matching problems were very (painfully) real, the fact that Apple launched its streaming service as a connected component of your iTunes library was incredibly revolutionary. Being able to seamlessly and easily combine (at least virtually) any album you desired into your existing library of digital music was a huge step forward, since
no other service offered such a trick
. Sure, you could weirdly bolt on "local music" as you listened to Spotify, or use other matching tricks to have songs in your library appear on services such as Rdio (R.I.P.!) or Google Music or Tidal, but what sets Apple's iCloud Music Library apart (for music nerds at least) is
the ability to modify tracks' metadata
so it aligned with your "real" library.
So you can sort all of your Aretha Franklin albums under "F" so they show up together. So you can change the release date for a 2016 remastered reissue to its original release year, so all the albums from the actual year show up together. So you can make sure everything has the right genre listing, so everything in that genre shows up together. In other words: So you can make your rented cloud tracks function just like your purchased/ripped/torrented "real" collection.
Smart playlists
– the secret sauce that makes all of iTunes' hassles worth the trouble – depend on consistent and correct data to function correctly, and iCloud Music Library makes it possible to ensure all of your data is consistent and correct. This is the single biggest value proposition and differentiator for Apple Music, and
it's what makes the service the only service that real music fans should consider using
.
And the centrality of this matching function - the fact that you literally cannot use Apple Music without integrating your iTunes library with it – has made it seem like Apple was intentionally catering their service to Real Music Fans. The new, vastly simplified version of Apple Music that's shipping with iOS 10 completely negates that assumption. Instead, a collection of changes to the app make it clear that
Apple is actually focusing on casual music fans and is imposing a model that encourages passive consumption, rather than active engagement with your music
.
The biggest change? The
removal of the ability to rate your tracks using stars
. Now, instead of being able to give something a 1-5 rating, you're only allowed to say you "LOVE" it or "DISLIKE" it. That's ... pretty binary! And not at all close to how music-lovers think about their collection. While you can still (for now) rate songs using iTunes, this functionality has been completely removed from the iOS app. Which means that when some pretty okay track by a band you like enough to stream comes on, you've gotta either LOVE it or DISLIKE it. There's not even a "EH, IT'S FINE" option. Just LOVE or DISLIKE. Who even thinks about the world that way? Much less their music collection? I tell you who doesn't: Real Music Fans and their smart playlists.
While such a change may seem pretty minor, it's actually very indicative of the direction that Apple seems to be going with Apple Music, as the emphasis now is on "curated playlists" and algorithms and behind-the-scenes marketing machinations.
It's made listening to music like scrolling through Facebook
... shit, I take that back. Even Facebook now allows for emotional variety when reacting to posts. With Apple Music: LOVE or DISLIKE. The result is a sort of self-fulfilling prophecy that ends up delivering "curated playlists" that are uniformly, you know,
okay
, but never truly exciting or surprising. Which is not to criticize the playlist curators at Apple; those folks are doing a great job, and there are hundreds of incredible and illuminating playlists buried within the system, but you'll almost never see them if you don't LOVE or DISLIKE things in the right combination. Even new additions like the customized "My Favorites" playlist mix – which
should
help you rediscover the depths of your library – end up circling the drain of the same-old same-old. (Seriously: Never tell Apple Music you like any artists that could be classified as "classic rock" or "alternative.")
This
unimaginative binary approach
extends to the service's revision of its radio stations. While they've recently added a shit-ton of amazing new "stations" –
Tamil Radio! Thai Pop Radio! Turkish Rock Radio!
– there is no way to modify or "tune" any of them to your personal taste. No option to say "play more songs like this on this station." No option to filter out explicit lyrics. No way to say "play fewer hits, play deeper cuts." (All of which were available in previous iterations of iTunes Radio.) Just LOVE or DISLIKE.
Real Music Fans don't think in these binary terms
, and Real Music Fans are the people who should be flocking to Apple Music as the streaming platform of choice. Heck, not just Real Music Fans, but anyone with a library of more than a few thousand songs across more than a couple of genres. The problem with the Celestial Jukebox – having (almost) every song ever made available (mostly) at (nearly) any time you want it – is that it's impossible to mentally organize all the wonderful things you've heard. (That's where smart playlists and self-curation comes in, not force-fed playlists.) And people with broad taste and passionate, deep curiosity about music are the ones who find the most to love in the infinite choices of streaming services.
Catering to this audience is the thing that can and should differentiate Apple Music, but, perversely,
Apple has decided to ignore this
and instead is making their streaming platform exactly like all the others:
simple, forgettable, casual
. Which is a shame for a company that consistently professes to have "music in their DNA," but it also does a real disservice to music fans by making it harder for us to engage in a meaningful way with our now-infinite music collections and forcing us into a passive, consumptive position, just waiting for the next curated playlist to come down the pike and tell us what we're listening to today. For Real Music Fans, that sucks.
Oh, and seriously: Fuck those AirPods.