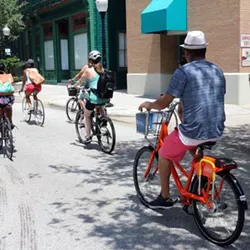 Photo courtesy Local Motive Tours
Not sure what to do this weekend to satisfy your craving for top-quality comestibles? Here are three events you won't want to miss this weekend that will sate your stomach and please your palate.
Saturday, Sept. 10
Swirlery's 1-Year Anniversary Celebration
1508 E. Michigan St., 407-270-6300
This SoDo wine tasting spot is celebrating one year of sipping sophisticated swill on Saturday, starting at 3 p.m., and $20 will get you a commemorative glass, food, wine and beer at the bar.
33 & Melt Second Sunday Brunch
13790 Bridgewater Crossings Blvd., Windermere, 407-614-3843
Head to the grilled cheese bar to combine their ridiculously delish grilled cheese with eggs to create a killer breakfast. Imbibe gratuitously on house-made Bloody Marys, margaritas and bottomless mimosas (then book an Uber or Lyft).
Sunday, Sept. 11

Ice Cream Fundae Bike Tour
Starts at Lake Eola Park

Rescheduled from last weekend, this bike tour through three of Orlando's coolest treat taverns, including Peak Season Pops, Kelly's Homemade Ice Cream and the Soda Fountain (10.8 miles total, so you'll more than burn off those creamy cones). Two options: Bring your own bike or rent a Juice bike and pedal around town like you own it. Tickets can be purchased at the link above.