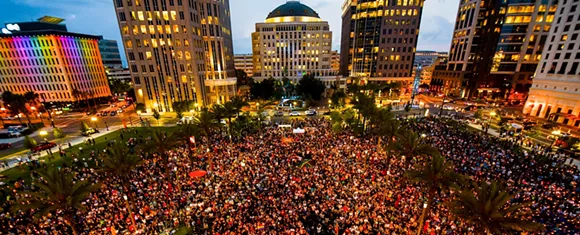 Tonight at the Dr. Phillips Center for the Performing Arts, hundreds of voices will unite in response to the Pulse Nightclub tragedy. Some of opera's brightest national stars, including sopranos Cecilia Violetta Lopez, Ana Maria Martinez and Sarah Joy Miller; mezzo-soprano Jennifer Johnson Cano; tenors Javier Abreu, Corey Austin and Alex Mansoori; and baritones Davis Gaines and Mark Walters, will be supported by a 50-piece orchestra and a 150-voice mass chorus made up of members of opera companies from all over Florida. Orlando Ballet dancers Katie-Lynn Robichaux and Arcadian Broad will join the singers. The internationally renowned David Charles Abell will conduct.
A highlight of the concert will be the world premiere of a composition by Pulitzer Prize-winning composer Paul Moravec, "Light Shall Lift Us."
The legendary baritone Sherrill Milnes and News 13's Ybeth Bruzual will be the evening's hosts in the Dr. Phil's Walt Disney Theater.
In a statement regarding the benefit concert, Opera Orlando says they and their partners "selected Central Florida organizations that work to build understanding of our region's diversity and address the interpersonal challenges that many people in their community face every day. These are the GLBT Center of Central Florida, Proyecto Somos Orlando, Holocaust Center's 'UpStanders: Stand Up To Bullying Initiative,' the Interfaith Council of Central Florida and the Zebra Coalition, which helps LGBTQ youth. But it was the Orlando Health's Level One Trauma Center that was the impetus for the benefit concert in response to all of their work during and around the tragedy." All performers will donate their time and service to help maximize the funds going to charity.
Tickets are still available, with seats ranging from $25 to $125, and
may be purchased here
.
One Voice Orlando: A Celebration in Song
8 p.m. Sunday, Sept. 11
Dr. Philips Center for the Performing Arts
445 S. Magnolia Ave.
844-513-2014
drphillipscenter.org