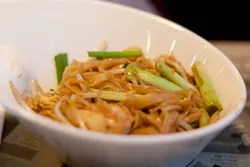 Photo courtesy Craig N. on Yelp
Char kway teow noodle bowl at Hawkers Asian Street Fare.
It's September, which means that the Oxford English Dictionary (OED) is due for its quarterly update. And, as expected, as our food culture grows in this country, so does the list of culinary words (mostly foreign-language words that have become part of everyday English) that are added to the list.
This year, there are 19 new food-related words, including a section on
Escoffier's brigade system
for restaurant kitchens (the "chef de" tranche below).
It's pretty exciting to see how our language, both colloquial and formal, has adapted to include these food and beverage terms, many of them completely unique and specific to a part of the world —
char kway teow
, anyone?
balut, n.
bocconcini, n.
char kway teow, n.
cheese eater, n.
cheeseball, n. and adj.
chef de cabinet, n.
chef de cuisine, n.
chef de mission, n.
chef de partie, n.
chef d'equipe, n.
chefdom, n.
kegerator, n.
leaf tea, n.
leche flan, n.
lechon asado, n.
lechon, n.
levain, n.
mamak, n. and adj.
pain au levain, n.
spanakopita, n.
Find a whole list of all the new words
here
. YOLO!