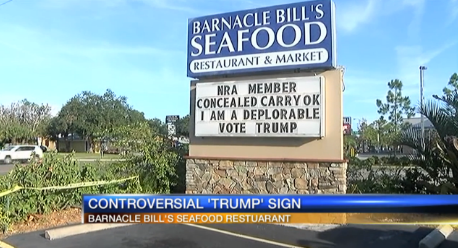 Sarasota seafood restaurant Barnacle Bill's won't be advertising the daily special on their sign for quite a while.
Until the election is over, says restaurant owner William Davis, he's leaving up the message "NRA MEMBER / CONCEALED CARRY OK / I AM A DEPLORABLE / VOTE TRUMP."
Sarasota news channel WWSB reports
that "William Davis wants other 'deplorables' to know they're welcome at Barnacle Bill's on North Tamiami Trail." Their report continues:
Davis posted the political message Tuesday after Hillary Clinton used the phrase "basket of deplorables" to describe half of Trump supporters at a recent fundraiser – something which she later said was "grossly generalistic."

"I got rather upset when I heard that comment from Hillary, and I just felt I had to take a stand and let people know where I stood," says Davis.
In the meantime, the Barnacle Bill's Seafood
Facebook page
has become a more colorful place.