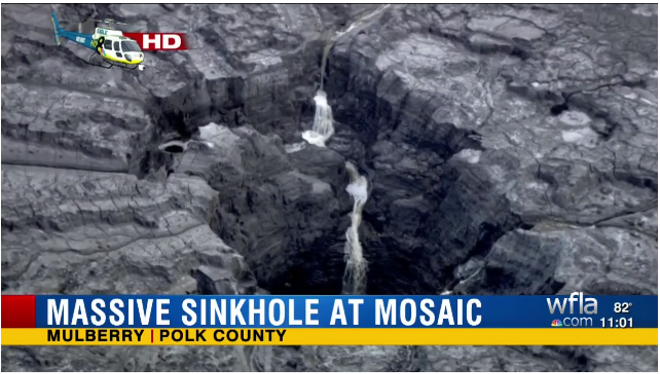 A massive sinkhole underneath a gypsum stack at a Central Florida phosphate fertilizer plant has dumped 215 million gallons of acidic water into the
Floridan aquifer
.
WFLA
reports the sinkhole opened up about three weeks ago. Workers at the Mosaic New Wales plant in Polk County were monitoring water levels when they noticed a decline for one of the two cells in the plant's active stack on Aug. 27, the company says in a
statement
. A gypsum stack is a pile of phosphogypsum, a byproduct from the production of phosphate fertilizers. WFLA has reported the contaminated water is "slightly radioactive," while
The Ledger
says the water is "acidic."
Mosaic reported the water level decline to the Florida Department of Environmental Protection and the U.S. Environmental Protection Agency. WFLA reports the sinkhole, which has a diameter of 45 feet, has dumped about 215 million gallons into the hole, which drains into the aquifer. Mosaic says they believe the sinkhole damaged the liner system at the base of the stack, draining the pond on top of the cell.
"When the water loss was detected, we began pumping water out of the west cell and into an alternative holding area on site to reduce the amount of drainage," the company says. "At this time we have begun the process of recovering the water by pumping through onsite production wells."
The Ledger
reported last year that Mosaic had reached a $2 billion settlement with the federal EPA and Department of Justice regarding the way Mosaic managed 60 billion pounds of phosphogypsum, the hazardous waste it produces during the manufacturing process, in Florida and Louisiana plants. According to the
Ledger
:
"The waste is placed in large piles hundreds of feet high covering hundreds of acres located near the fertilizer plants contain toxic and radioactive elements and highly acidic water. EPA officials consider them some of the largest manmade waste piles in the country.

If the waste is not handled properly, it can pollute surface and ground water, which has occurred a number of times over the years.

They include acid spills that affected the Alafia River in 2004 and 1997 and a 2004 acid spill that affected a tributary of the Peace River.

In addition, a sinkhole opened beneath an unlined stack at Mosaic's New Wales plant in 1994, threatening underground water quality."
Mosaic representatives tell WFLA the company is monitoring the stack and nearby wells constantly, though they don't believe the water is making it to nearby wells. The plant is still operating, and
company officials
say they are developing a plan to address and rectify the cause of the water loss.