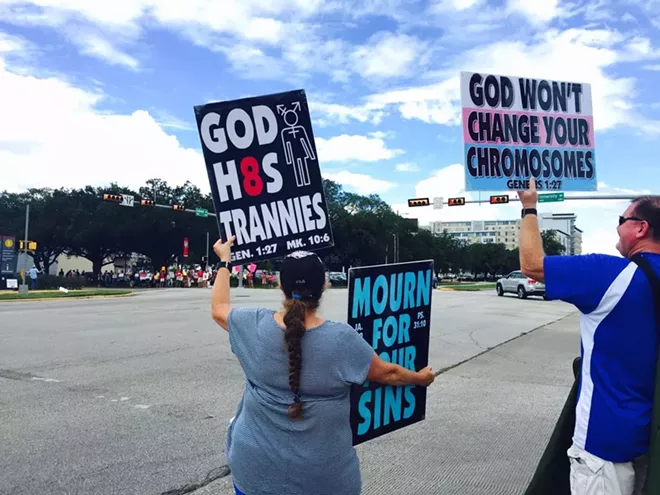 Photo via Westboro Baptist Church
The Westboro Baptist Church, an almost universally reviled hate group, released a parody of "Pulse," a song written by singer Melissa Etheridge as a tribute to the 49 victims of the mass shooting at the gay nightclub.
The congregation, known for its anti-LGBTQ stances, announced via
Twitter
that they were singing the parody in protest of a Gender Infinity conference at the University of Houston, according to the
The Daily Cougar
. In the days after the shooting at Pulse happened, Westboro members came to Orlando to
protest
victims' funerals. Hundreds of demonstrators counter-protested the group, drowning out their chants by singing.
The infamous church's parody song (which if you really want to, you can find
here
) includes the lyrics "With everything we've got, 'Repent,' we cry! / For all your awful sin, that's why they died / We're telling you the answer / Fighting God, won't win / Cuz God gave you that pulse."
Etheridge, who is an LGBTQ activist, wrote her
song
shortly after the massacre and is donating any
proceeds
to Equality Florida, according to
Rolling Stone
. Listen to her song below.