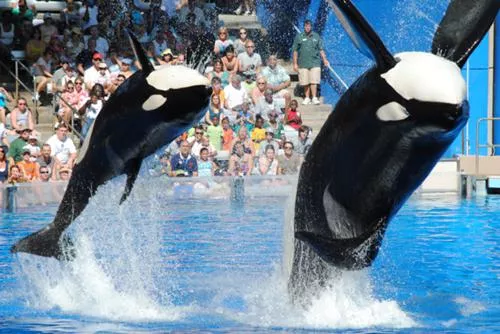 Killer whales, photo by Jason Kelly
SeaWorld Orlando will announce details of its 2017 offerings tomorrow, Tuesday, Sept. 27. Joel Manby, CEO of SeaWorld Parks and Entertainment,
confirmed in August
that SeaWorld Orlando would be getting two new experiences in 2017 along with an update to a current one.
The strongest rumors currently point to virtual reality headsets being added to one of the coasters, most likely Kraken. Kraken is SeaWorld Orlando's oldest true thrills coaster (Journey to Atlantis is technically a water coaster, but the coaster part is extremely brief). If the rumors are true, Kraken, a floorless coaster, would be the first coaster in Florida to receive a permanent VR experience. (Fun Spot on North I-Drive was home to a temporary showcase of VR coaster tech last November, but that week-long showcase was by invite only.)
SeaWorld's VR coaster experience is rumored to be themed to the Kraken itself, showing guests an actual battle between themselves and the mythical beast. The Fun Spot VR experience included a small button on the side of the headsets that allowed riders to interact with the simulation. There's still no word on if the SeaWorld Orlando VR coaster experience would be interactive, but the majority of recent VR installations on coasters have not been. If the rumors are true, we should see VR on a number of coasters throughout the entire SeaWorld family of parks over the coming years, including at Busch Gardens Tampa.
Journey to Atlantis is also scheduled to go down for a lengthy refurb this winter. It may receive a more-thorough-than-average update, possibly including structural updates as well the refreshing of certain scenes.
With this update to a current attraction, we're left with the two new things that Manby teased in August.
Screamscape
, a theme park
news
and rumor site, reports that a new bubble show will be coming to SeaWorld. The show will likely be here for only the summer of 2017, with the slower times of year having other entertainment options.
Behind The Thrills
is reporting that the rumored show will include the Gazillion Bubble Show. Gazillion Bubble is a bubble magic show that uses lasers, lighting effects and audience participation. The show is rumored to be taking place in the underused Nautilus Theater.
Another rumor being bruited about may also be announced tomorrow: a new nighttime show. The former nighttime entertainment relied heavily on a Shamu-based show. With SeaWorld now slowly shifting away from orcas in a performance setting, they need new nighttime options during the busier summer months. The new show will likely include the fountains currently in the central lake, along with new lighting effects and the use of projection mapping.
Behind The Thrills
is reporting that the potential new show will be called "Electric Ocean."
Other possible updates include a new SeaWorld Rescue-themed dark ride attraction near the Key West area of the park, though this attraction will likely be for the 2018 season. There's also talk of
Rocky Mountain Construction
, an attraction
design
and construction company that specializes in wooden coaster construction, working with SeaWorld parks on a number of installations and updates to their coasters. Rocky Mountain is the hot brand right now in amusement parks around the country. They recently did a number of ride updates for Six Flags parks and are currently working on new experiences for Cedar Fair parks. The most likely scenario, if this rumor is true, is updates to Gwazi in Tampa, along with new coasters in a number of SeaWorld parks that may include SeaWorld Orlando and SeaWorld San Antonio.
Aside from specific
rides,
there's also a few other possible announcements tomorrow.
We may hear a brief update
to
the
Blue World Project
orca habitat plans tomorrow, since few details have been given on the Orlando part of that project, but the most recently announced timeline for it point to 2019 before any major changes come to Orlando. The main focus of tomorrow's announcements will be 2017. [
Correction: The full Blue World project has been canceled.
]
In late 2015, Manby announced that SeaWorld Parks and Entertainment was looking at
adding resorts
to many of its parks. Resorts at the Florida parks have been rumored ever since. If that's still happening, we should be getting details on those within the coming months as well. That will likely include an update to Discovery Cove, Busch Garden's Serengeti Plain and possibly the SeaWorld Orlando parking lot.
There are also a number of rumors circulating about new additions coming to Aquatica, SeaWorld Orlando's water park.
Plans were leaked
just over three years ago showing a new family raft ride that included a segment inside a bird aviary. SeaWorld has been
mum
on whether those plans are real and if there are any expansion plans for Aquatica. The only major addition to the park since it opened in 2008 was the addition of Ihu's Breakaway Falls in 2014.
And since it's SeaWorld, of course, there's gossip of its demise and highly unlikely rumors that tomorrow will include announcements of the company selling major aspects of the business.
There's no indication that SeaWorld will be making an announcement of that type tomorrow. More than likely, it will simply be an announcement of two new things and a remarketing of an older thing, just as Manby said back in August.