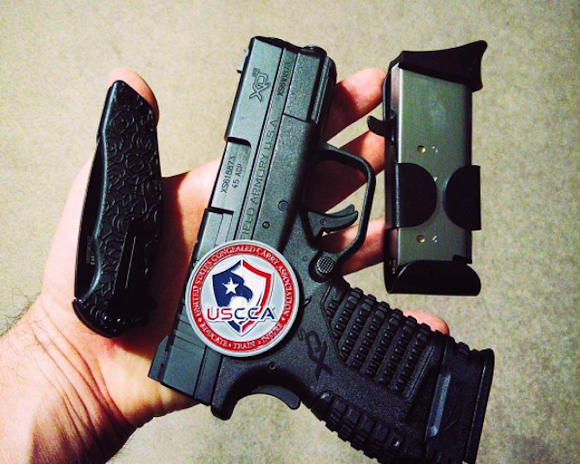 Photo via USCCA/Instagram
A deadly altercation between two Tampa residents last year revealed, perhaps, an even deadlier force: the U.S. Concealed Carry Association.
At 2 a.m. on Sept. 19, 2015, 26-year-old Nick Julian IV fatally shot his neighbor Carlos Garcia, 37, after the two argued multiple times that night in their front yards. The arguments started over loud music and ended when Julian claimed that Garcia charged, leaving him no choice but to shoot Garcia with his .45-caliber Kimber Pro Carry II semi-automatic pistol, according to the
Tampa Bay Times
.
Just after shooting Garcia, Julian called the 24-hour 'stand your ground' hotline provided by the USCCA.
The
association
also provides an attorney on retainer, bail money and a membership card instructing members what to say to police after a shooting. These services cost just $13 a month.
"This is basically preparing people: You're going to kill someone and you need to know what to do," University of Miami law professor Mary Anne Franks told the Tampa Bay Times.
USCCA President Tim Schmidt, however, applauds these gun owners for being
"willing to do what is necessary to protect themselves, their family members, and even complete strangers from the ruthless attack of a violent criminal."


Garcia was unarmed at the time of his death.
Hillsborough County State Attorney Mark Ober decided not to charge Julian, as there was a lack of evidence to rebut "Nick Julian IV's claim that his use of deadly force against Mr. Garcia was an act of self-defense."