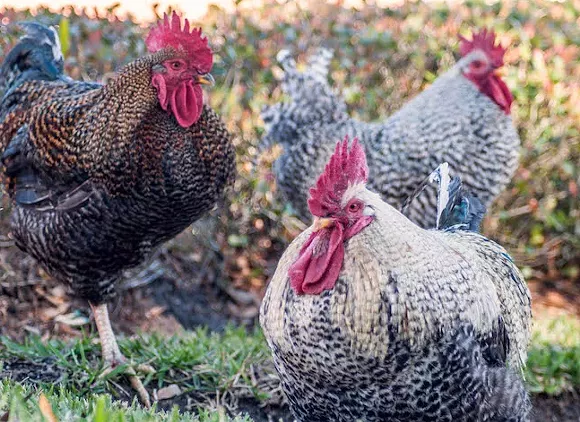 Some folks will be
egg-stremely
(sorry) pleased with certain results of the City Council meeting on Monday: a 5-1 vote has given initial approval to make permanent the city's "urban chickens" program, bringing the project one step closer to permanence.
If approved, the new program will allow up to four chickens per household, increase the cap from 75 to 100 homes, and allow residents in all six districts to participate. Right now, only four out of the city's six districts are available for participation in the program.
The program first launched in 2012, following a "locavore sustainability movement" encouraging citizens to grow their own food. In June,
project planner Jason Burton noted
that the city has "received dozens of inquiries about our program from interested parties outside of Orlando, including several local cities and throughout Florida. Many jurisdictions have gone so far as to copy our program to implement a pilot program of their own or permanent ordinances for backyard chickens based on Orlando's guidance."
Participants in the original pilot project were allowed to keep three hens; 64 households have since participated in the program. Only hens are permitted by the ordinance, which does not change in the current plan. No roosters are allowed, due to noise ordinances, nor slaughtering of the animals (due to health ordinances). Hens must be kept in secured housing.
Those thinking about joining in on the program are required to take a chicken-care class in order to be approved, according to the permit.
A final vote to make the program permanent is expected Oct. 10.